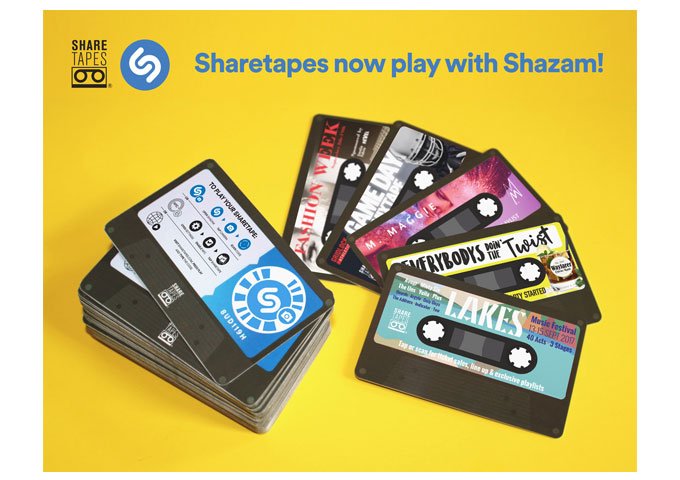 Sharetapes is proud to announce integration with Shazam, one of the world's most popular apps. By integrating new scannable Shazam Codes into the product, Sharetapes can now be played through the Shazam mobile app.
Sharetapes are credit card-sized mixtapes for smartphones and tablets—allowing brands, artists and event organizers to share cloud-based music, video and other content on interactive, branded cards. Combining the existing NFC (near field communications) chips embedded in Sharetapes with the new visual codes from Shazam, Sharetapes are now the ultimate solution for sharing digital media by hand.
NFC allows Android users to play a Sharetape just by tapping their device—however, iPhone users do not have open access to their NFC. With this integration, users on both iPhone and Android can now simply scan a Sharetape's unique visual code with the Shazam application, and the content will instantly play on their device. The integration means Shazam's recently launched AR (augmented reality) features are now also compatible with Sharetapes, bringing interactive content to life on top of the cards themselves.
Some users got a sneak preview of the new partnership at SXSW, where Shazam– activated Sharetapes were handed out at Bud Light and Reverb Nation Concerts. There was also a special Shazam event promoting the new AR features, which saw an augmented reality Wyclef Jean singing on top of a Sharetape.
"We're excited to have Shazam Codes integrated into Sharetapes, which will make it even easier for users to connect with music and other experiences in the physical world," says Shazam Chief Revenue Officer Greg Glenday. "It's a way for brands and events to get creative with the way they engage consumers."
Sharetapes can be ordered for events, brand activations or to market your content. Each set features a custom printed design and can be linked to the cloud-based media of your choice, using services like YouTube, Spotify, Pandora, Soundcloud and more. Sharetapes can also be linked to a custom landing page, and each campaign features live analytics to monitor interactions.
About Sharetapes
Sharetapes is a product of Tactify, a proximity marketing startup founded in 2013 in Sydney Australia, now with offices in New York and Chicago. Existing Sharetapes customers include Universal Music, Pandora, Spotify, IBM, Red Bull and many other brands.
About Shazam
Shazam is one of the most popular apps of all time, used by hundreds of millions of people each month to magically connect to the world around them. Building on its pioneering leadership in music identification, Shazam now helps people discover, interact with, and share audio, video, printed or augmented reality content—and lets music fans follow their favorite artists to share in the thrill of discovery. The app has been downloaded over 1 billion times, in over 190 countries, and users
Shazam over 20 million times each day, helping to shape Shazam's influential weekly charts. For more information, please visit  www.shazam.com.
Visit  www.sharetapes.com for more information.
For inquiries and samples please contact  jared@tactify.com