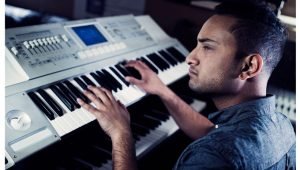 Anand Lakshminarayan aka AnandL, an alumnus of UC Berkeley, who graduated with a degree in Electrical Engineering and Computer Science says his main interest is in music. Since last year's "Throwback Covers" playl...
Lenny Gerard is a driven, charismatic and passionate artist with a unique feel. Hailing from New York City, he managed to seize the town's eclectic music scene. His sound showcases a lot of talent and versatility: Lenny emb...
Love in High Places by Parrish (Mark Parrish) features powerful pop anthems and intimate ballads, led by a signature soulful female voice and personable and relatable lyrics. The songs on are anchored by the powerful vocals and...
Within only two summers J Marie has been featured on "BET's Blaze the Stage", one the largest festivals, AFRAM, with over 40,000 in attendance, shared numerous stages throughout the Tri-state such as National Mall of Wash...
A native of Fort Lauderdale, Florida, Tyler Noel began singing at the tender age of five in the church choir. At the age of 12, Noel began her professional music career when she joined the girl group, Solo Tre. The group was si...
Gisele Anthony is a vocalist, songwriter and storyteller. She is a native New Yorker now residing in South Carolina. Gisele is scored in elements of Soul, Jazz, R&B, Pop, Gospel, World and Classical music to create the symp...