Posts Tagged 'alternative rock'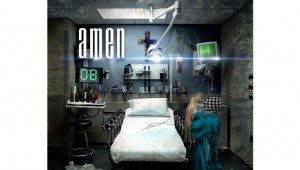 Omar Bowing is a Guitarist, Guitarviolist and Songwriter currently located in Austin, Tx. His freshly released single is called "Amen" and features Tyson Yen (vocals), Tim Horsley (Drums) and Martin Motnik (Bass Gui...
Born out of Wilmington, Delaware, the members of Bag of Nickels have played together since 1995, taking several breaks along the way to pursue side and solo projects and to decompress from the grind of playing shows, working 9-...
Cam Fraser has an education spanning from English Literature, New York theatre training, graduate work in graphic design and music at the renowned Berklee College of Music. Among others, Cam has played in popular Toronto bands...
Formed in 2013, alternative hard rock band Heavy AmericA, consisting of Mike Sequin (lead vox, guitars, keys), Dan Fried (drums, percussion, vox) and Budd Lapham (bass, vox), brought together their years of experience and influ...
There are a lot of reasons why I love ZUFO. Every single second of each song he records is absolutely enthralling in every way. First off, the lyrics; Zufo always finds a way to express deep thoughts simply, yet so elegantly. I...
"Sky's the Limit" is an easy pick for any rock music fan. Rubix Wheel began in 2007 as the Jester Jack Band, playing some midsized festivals.  In 2010 they changed the name to Rubix Wheel, and have completed ...
I consider SWELL to be a strong social statement. This is 'all killer, no filler' and every song stands out on its own. The album produced by Lloyd Stuart Casson, Eric Winzenried, and Jason Roberts really brings out...
Boom Kinetic started as a conglomeration of musicians from several established Fayetteville, Arkansas bands in order to showcase their skills as performers. Since then they have grown the areas they reach performing in Memphis...
Ka tet are a Galway based, three-piece rock band whose sound focuses as much on 3 part vocal harmonies as it does on crunchy guitar riffs, gripping rhythms and chunky bass undertones. The band have released two singles to date ...
Elephant 12 originate in the depths of London,England. The three piece, known for their highly energetic performances and quirky fusion of unapologetic punk rock laced with a magnetic electro bass lines. Quickly becoming the t...