Posts Tagged 'Guitar Instrumental'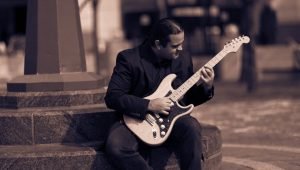 Rahul Mukerji is a 'guitarist's guitarist' who revels in a self-penned musical hybrid shot through with intensity, precision and plenty of ethnic flavorings. His 11 track album "Ma De Re Sha" is a big sounding record...
As far as guitarists go, Shehzad Bhanji is a master of his craft. While not quite as well-known as some of his contemporaries (Steve Vai and Joe Satriani come to mind in his field) he's more than proven himself on his previo...