Posts Tagged 'Music Reviews'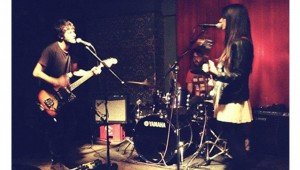 With a band name like Flying Vaginas, it's no surprise that the band members carry such aliases as Well Worn Banana (guitars, vocals), Disappointed Kiwi (bass, vocals) and Angry Pineapple (drums, synths). But this Italian tri...
While trying to decide between listening to something ambient or something driven by a steady rock beat, listeners can instead find an enticing blend of the two in Korean band HEO. HEO combines the strength of indie rock with t...
A London-based electro-rock project dreamed up by Beatrice Bonnano, Dronningen, which means "The Queen" in Norwegian, base their music on three guiding principles that can be heard and felt in the music and lyrics: 1) Getti...
Lyrically these young dudes put crazy imagery in your head. The 13 track album, "The Juevos & T.tom Demo" is a hip hop collaboration between Long Island's Seany Juevos & Vermont's Tommy T. Tom. I...
Lina Fouro (L4O) is no one-hit wonder! Lina Fouro (L4O) is a singer-songwriter from Toronto, Canada. Lina was first noticed in the music industry in 2011. Since then she has gained major awareness for her electro-influenced p...
Yung Bru delivers great metaphors and punch lines. Yung Bru is a 23 year old audio engineer, rapper, producer & mentor living and working in the city of Pittsburgh, Pennsylvania. Bru first began writing music at the age of...
Sarantos is at his best when his complex melodic ideas are designed to slowly seep into your sub-conscious Successfully releasing yet another song from his upcoming debut album, Sarantos Melogia continues to juggle his busy sch...
Tjuan Benafactor is a hip hop artist and much more, working behind the scenes throughout the entertainment industry in many capacities. The event promoter turned national recording artist feels his success stems from the basic ...
Leneage Records is a record label supporting enthusiastic rap artists. It is an achievement for Coleman Strickland, his company and team and one that he's been working on for the past year. Being ranked as the top 1 for the R...
Lenzmen producer and recording artist Dynamics Plus creates his sonic visions while taking the listener on a journey into the labyrinth of his imagination. It's the inner mechanism of the Mind Action that leads us to a wo...