Strangers Of Necessity are an American hip-hop duo, based in the Midwest, consisting of prolific producer, CoryaYo and veteran lyricist, Fooch the MC. They linked via Twitter and quickly became friends, sparking an immediate ch...
It's never been easier for artists to stay independent. Of course you can get good music producers, good visual directors for videos, good rappers and good singers to feature on your track without a great budget, but you have...
On his latest single, "Hey Corona! (Nice to Meet Ya)", underground music hobbyist Angry B pinned his rap skills and dark wit, to the sounds of mainstream pop and a funky EDM template. He blurs the lines between genres with ...
On the recording, "Leo's Guitar EP", Izzie's Caravan and his guitar conspire to use every single crayon within the blue color box to deliver one of the best underground independent studio blues releases I've heard...
EyeKonik is an artist with a focus on creating punchy and appealing pop music with a personal twist. Recently, he released a brand new single called 'Mind Blown'. What really makes this track stands out is definitely the fa...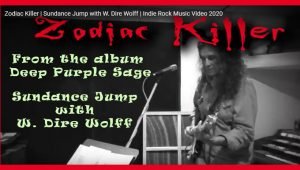 Zodiac Killer is a wild Indie Rock song with crazy slide guitar laid over a rockabilly beat. The song is about a woman who frequents a night club called Zodiacs by nights, and cruises around town by day. Deep Purple Sage is a C...
FRONTMAN JACOB CADE'S 'ACOUSTIC HANG WITH JACOB FROM THE BRKN' WILL LIVE STREAM VIA THE BANDS INSTAGRAM AND FACEBOOK THROUGH THE END OF APRIL AT 6PM PST/7PM MST/9PM EST THE BRKN recently released their debut EP No. 3 via ...
I recently heard about an artist called D-Witt from Rockford, IL.  Illinois is the home of some prestigious sons who have left unforgettable marks on hip-hop's history. I'm expecting an unfiltered rebel who is unafraid to ...
As the months pass slowly into years, it becomes increasingly plain to all concerned that Danish electronic music producer, Mortinus is taking his craft very seriously. He has been extraordinarily prolific and has maintained a...
Fearless and uncompromising, Stiff Lauren is back to deliver a triumphant track about having faith in yourself no matter what. Stiff Lauren is a hip-hop artist who is no stranger to speaking what's on his mind. Since he hit t...