I chose the album "Private" completely at random, among the many on my desk, needing something to get me through an hour or so while doing something else, and thought I'd give this a try, almost expecting to skip through ...
22Hertz is a solo Heavy Alternative Rock project by singer and producer Ralf Muller. The Toronto artist combines abrasive underground sonics with pop elements and hooks into a sound reminiscent of Nine Inch Nails. At their sign...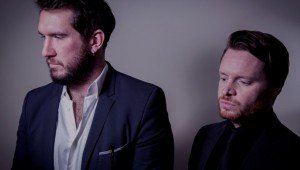 Honey Beard is an Irish/Canadian Electronic Dark-Pop duo from Toronto, Canada. They have been creating music since 2012 drawing on early inspirations such as Depeche Mode and The Doors.  Honey Beard released their debut EP ...
Born in Toronto, Canada, both Geoffrey and Kadin of the duo, the Yung Saintz, are sons of Caribbean parents. Without major label support, GTA and Kadin Black were able to release a series of projects that feature artists such a...