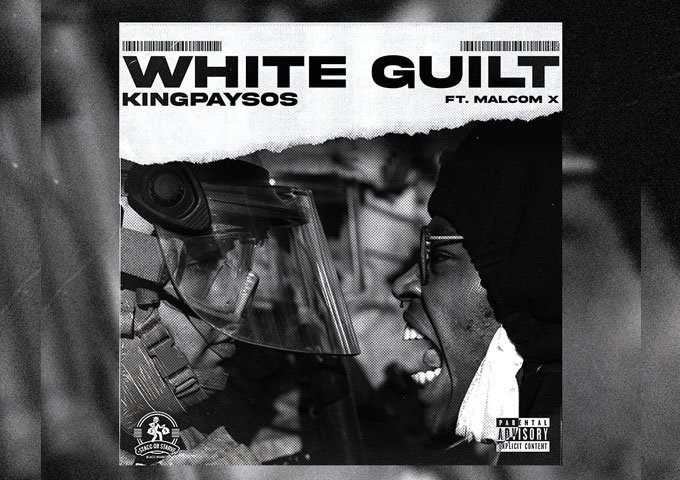 To be blunt, "White Guilt" feat Malcom is worth any amount of buzz it will accumulate in the upcoming weeks. The track is both gorgeous and monolithic, as the booming beat provides one hell of a canvas for the conscious lyrics. KingPaySos could have rapped this in a mediocre way (which he doesn't), and the track would still be fantastic. A striking lyricist, KingPaySos one of those artists who has a top-shelf understanding of how a beat's cadences dictate flow.
Hailing from Brooklyn, New York, KingPaySos is a rapper, podcaster, radio personality, and the founder and CEO of the music production company BLACC MARKET. Although it can be tempting to focus on the sonic architecture of "White Guilt" feat Malcom, KingPaySos' rhyming is one element that confirms he is not only bound to find his route to the top tier of his genre, but also that he's sharp enough to deserve it.
"White Guilt" feat Malcom tackles the black man's predicament head on, as KingPaySos takes us through lessons in history to the current daily struggles, and all the discriminating and unjust narratives in between. The song is constructed to relay the human experience and somehow cement rap as more than the reductive valuations of those who suggest that all current hip-hop is not art, but instead just a whole lot of shit-talk.
KingPaySos portrays black manhood in hip-hop as much more than just the exaggerated tropes we get bombarded with daily. It is a calling that becomes very real and urgent on "White Guilt" feat Malcom. Ultimately, he defaults to being brutally honest in his narration of the song's theme, giving the United States of America a big enough mirror to look at itself naked, totally stripped of its lies.
It is a dissection of the evils that created the circumstances of the struggle and the suffering. "White Guilt" feat Malcom isn't just another hip-hop single, and KingPaySos isn't just another rapper. Compared to what's happening on the scene right now, he is different.
This track pulls no punches. In the face of a still unstable political scenario, and widening economic disparity, KingPaySos tackles social issues through music and does so exceptionally well.
Take a quick look at the mainstream rosters, and it becomes obvious that "White Guilt" feat Malcom is miles ahead of the competition in its quality and its message. It is an honest assessment of America and its treatment of black Americans. It's dead-serious stuff, while simultaneously being catchy and infectious enough to capture the attention and love of the entire rap audience, regardless of style preferences.
"White Guilt" feat Malcom stands as a fearless and uncompromising manifestation of KingPaySos' desire to push the culture of consciousness forward. With bits of personal and political context interspersed, this is undeniably, an important track for the times.
KingPaySos comes out swinging from the first bar, with a great balance between classic and modern Hip Hop. The more you analyze it, the better it gets. Yet none of this would work were it not for KingPaySos' articulate flow which is compelling all throughout "White Guilt" feat Malcom.
OFFICIAL LINKS: WEBSITE – SPOTIFY – APPLE MUSIC Social Media @iamkingpayasos