In the kingdom of contemporary rock and blues, the name Animal Steel resonates with a raw, unapologetic energy that has been finely honed through a lifetime of musical devotion. Swedish musician Magnus Bergman, known by his project name Animal Steel, embarked on a journey with a guitar in hand at the tender age of 12, a decision that has shaped his destiny as a formidable artist. Drawing inspiration from the legends of classic rock such as Jimi Hendrix, Pink Floyd, and Deep Purple, as well as the ferocity of heavy metal icons like Judas Priest and Pantera, Animal Steel's sonic creations resonate with an undiluted emotional spectrum.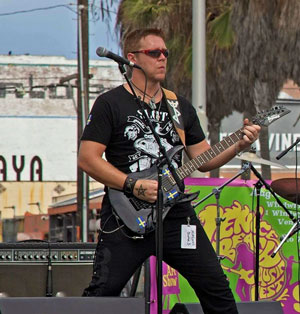 The latest offering from this seasoned musician, the remastered "Heavy Duty" EP, emerges as a testament to Animal Steel's ability to harness the inferno within his music. Consisting of seven tracks, this EP encapsulates his distinctive blend of blistering guitar riffs, thunderous drumming, and resonating vocals, all amalgamated into a cohesive and potent auditory experience. The brilliance of Animal Steel lies in his aptitude for crafting compositions that appeal not only to the discerning ears of musicians but also to a broader audience, a rare fusion that he accomplishes with precision.
Intriguingly, Animal Steel dons multiple hats in the studio, assuming the roles of guitarist, bassist, drummer, keyboardist, and vocalist. This multifaceted approach finds expression in his music, as he endeavors to experiment with an array of styles ranging from metal and blues to rock and instrumental chill, resulting in a sonic landscape that defies confinement. Since inaugurating his musical voyage, Animal Steel has already unfurled four albums, alongside an assortment of EPs and singles, a testament to his unwavering dedication to his craft.
The tracks within "Heavy Duty" adeptly showcase Animal Steel's prowess in fusing the hard-hitting essence of rock and the soulful expanse of classic electric blues. Here, these two genres are not merely juxtaposed; rather, they are interwoven seamlessly, affording each style due reverence while ingeniously melding them into an immersive auditory journey. What emerges are songs that are evocative and visceral, a combination that only a handful of guitar virtuosos can authentically pull off. Yet, Animal Steel masterfully navigates this terrain, elevating the musical experience regardless of whether it is instrumentally driven or vocals take the lead.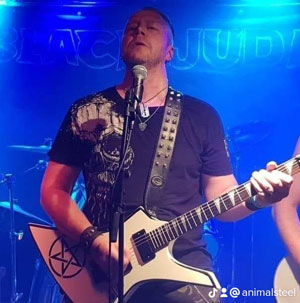 From the primal intensity of "Scratch" to the raucous allure of "Roadhouse," and the incendiary vigor of "Stupid Lead" to the heartrending lament of "Heavy Blues," the EP traverses a sonic spectrum that leaves no room for respite. From the impelling "Cure My Guitar" to the poignant echoes of "When You Left Me," and the vivacious rhythm of "Beerman Boogie," Animal Steel's six-string assault is unyielding, steadfastly forging the path or complementing the vocal melodies with equal finesse. Amidst the explosive fervor and infectious grooves, Animal Steel remains unwavering, conjuring an equilibrium between the musical exuberance and the underlying depth that resides within his compositions.
Central to Animal Steel's signature is the consistency and maturity of his vocals, which traverse the emotional gamut with an ease that can only be cultivated through years of dedication. The fluidity of his delivery enriches the lyrical narratives, infusing them with the genuine sentiment that resonates with listeners. The guitar work, slick and skillful, serves as a testament to his mastery over his instrument, further enhancing the musical tapestry he weaves.
In conclusion, Animal Steel's "Heavy Duty" EP stands as a testament to the convergence of musical prowess and emotional depth. Magnus Bergman's journey from a 12-year-old picking up a guitar to the artist known as Animal Steel has culminated in a collection of songs that embody his artistic evolution.
With an unwavering dedication to his craft, Animal Steel not only captures the essence of rock and blues but also transcends them, forging a unique auditory experience that pulsates with raw power and intricate nuances. As Animal Steel's trajectory unfolds, the promise of future musical offerings resonates tantalizingly on the horizon, a testament to an artist's ceaseless exploration of sonic boundaries.
OFFICIAL LINKS:
https://open.spotify.com/artist/5EVlLysB8DQSgx2QbdQhRL?si=RvAyycEeSXGWC4LoSEnBBA
https://youtube.com/@Animal_Steel
https://www.facebook.com/animalsteel70
https://vm.tiktok.com/ZGJpYp8Tk/