George Kapi Gantsu, a seasoned maestro hailing from the culturally vibrant enclave of Tyolora, South Africa, radiates an unparalleled musical prowess and narrative finesse. With an upbringing steeped in the resonating cadences of South African culture, Kapi Gantsu has transcended conventional musical boundaries, infusing his compositions with a rich melange of influences that echo the vibrant tapestry of his heritage.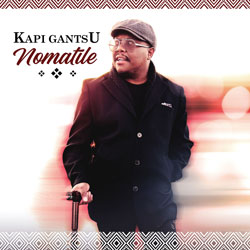 Having navigated a musical odyssey that spanned from the Boyz Of Soul to the soul-stirring harmonies of Agape, Kapi Gantsu's journey has been an exploration of diverse instrumental landscapes, embracing the profound resonance of guitars, pianos, and the soulful echoes of traditional African percussion. However, it is his latest magnum opus, the 12-track masterpiece "Nomatile," that serves as a profound testament to his musical ingenuity and heartfelt lyricism.
The album "Nomatile," an endearing homage to his inspirational aunt of the same name, serves as a rhapsodic sojourn across the lush soundscapes of Kapi Gantsu's Afro-Soul eminence. Each track is a heartfelt narrative woven intricately with the threads of personal experiences, cultural nuances, and an unyielding desire to establish a universal musical connection.
What ensues is a symphony of captivating melodies, infectious rhythms, and introspective lyrics that evoke a profound sense of unity and empathy among his listeners. Each track is meticulously crafted to evoke a spectrum of emotions, entwining the warmth of Kapi Gantsu's vocal nuances with the compelling musical arrangements that lay the groundwork for an immersive sonic experience.
In "EKhaya" featuring the award-winning guitarist Kunle Ayo, the ethereal harmony captivates the listener, setting the stage for a melodic expedition that seamlessly unfolds through the titular track "Nomatile," the soulful plea of "Ndincede," and the emotive resonance of "Lerato." From the impassioned confession of "Ngiyavuma" to the rhythmic allure of "linkomo" and "Ndinovuyo," Kapi Gantsu masterfully crafts an emotional journey that resonates deep within the core of one's being.
Through the effervescent chords of "Ubomi Bobakho" and "Uthando Lwakhe," Kapi Gantsu elevates the album's narrative, infusing it with an aura of profound social consciousness and cultural diversity. "Lizalise," "No More," and "Mababotshwe" serve as poignant testaments to his ability to intertwine evocative storytelling with melodious charm, inviting the audience into a realm where language becomes a transcendent bridge of shared emotions. Throughout, Kapi Gantsu demonstrates a technical virtuosity that is as compelling as it is mesmerizing.
The organic musical arrangements, embellished with a symphony of shimmering keys, resonant guitars, and an expanse of exquisitely layered vocal harmonies, provide a lush sonic canvas upon which Kapi Gantsu's commanding vocal prowess takes center stage. Each note resonates with an innate fervor, drawing the audience into a transcendent realm where the soulful melodies effortlessly entwine with the deepest recesses of one's emotions.
As the album unfolds, it becomes evident that Kapi Gantsu's creative spirit knows no bounds. His unwavering passion for music, coupled with an unrelenting drive to leave an indelible mark, permeates every note of "Nomatile."
"Nomatile" is not merely an album; it is an immersive experience that transcends the boundaries of language and culture, inviting audiences to partake in a musical voyage that celebrates the boundless diversity of South African melodies, while embracing the universal language of profound musical expression.
With this exceptional opus, Kapi Gantsu cements his position as a luminary in the realm of Afro-Soul and beyond, leaving an indelible mark on the musical landscape and echoing the resilient heartbeat of South African musical heritage.
OFFICIAL LINKS:
STREAMS: https://warnermusicafrica.lnk.to/Nomatile
FACEBOOK: https://www.facebook.com/kapi.gantsu
INSTAGRAM: https://instagram.com/kapi_gantsu