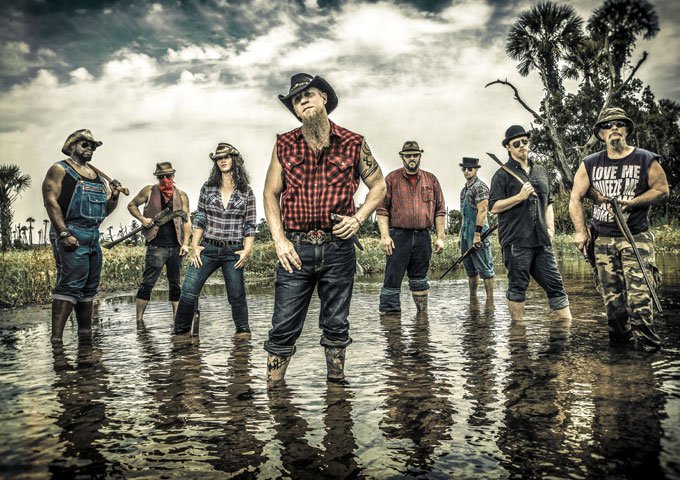 Featuring 13 tracks including "Beautiful Corpse" and "Dorothy Gale"
The Bloody Jug Band, who hail from Orlando, Florida, have been making music for over six (6) years and have pretty much carved out their own lane as far as jug bands go, and continue to do so with their new album, "Rope Burn" which dropped on April 13th.
With 13 new tracks drawing influences from the dark, dirty south of the 20's and 30's, each track  was created using traditional jug band instruments including: washboards, mandolin, harmonica and a washtub bass. Combined with the bands own musical influences ranging from: Tom Waits, Johnny Cash and The Band, the end result is a sound that has been labeled as Roots rock meets Florida Swamp Noir, with a heavy dose of southern gospel and outlaw biker rock.
The Bloody Jug Band consists of eight members and with names like: Cragmire Peace, Stormy Jean, Brian Shredder, Steevil, Bloody Rick Lane, Seth Funky, Big Daddy Jerm and Baby Dingo,  and lyrics that weave tales about serial killers, insanity, and blood thirsty unicorns; make no mistake about it—-this isn't your grandmother's jug band.
Lead singer, Cragmire Peace has always been an evocative story teller and does not disappoint on "Rope Burn". He delivers haunting lyrics with a gravelly voice not unlike Wolfman Jack's, that lends credence to the horrifying tales he sings about. And yet, its that same gravelly voice that blends so well with Stormy Jean, the female lead vocalist, who's voice has got just a much grit as it does delicacy. She soars high with heavily influenced southern gospel runs and then kicks you in the gut with her bellowed howls. The musicians in the Bloody Jug Band are top notch and the artistry in their song-writing is so well crafted that you can't help but to find yourself singing along to the dark and disturbing lyrics the Bloody Jug Band has become known for.
On "VolfKiller" the albums lead track, listeners are met with a crunchy rock track, full of riffs that hook you by the time you get to the chorus. On the contrary, "13 Steps" one of the album's closet things to a ballad, is fronted by Stormy Jean- who delivers heart-wrenching southern gospel flavored choruses that conjure up dark gothic, folkloric images of the oppressed marching to their death beds.
The Bloody Jug Band's lyrics have always been heavily influenced by the macabre and "Rope Burn" stays true to those roots. With lyrics like, "I've been digging ditches, where your soul switches," on "The Undertaker" and "So they wrapped a rope around my neck for what I've done/a cold dead morning shows a blood red sun/" on "Jezebellion," and "My sweet ole' parents, they locked me up when I was just a child," on "Asylum Blues", they cover pretty much every dark spot on the underbelly of society—which puts them in their own lane as far as jug bands go.
The album's stand out track "Beautiful Corpse" is also it's most disturbing one, lyrically, " I knew you were the perfect choice the first time you came around/so later on when I took your breathe I was hesitant to put you in the ground/propped you up, put make-up on, put you in a pretty blue dress/had to make sure you stood out from the rest". However, within about 2 seconds of play, you're pulled in with Cragmire's gravelly vocals, wailing blues harmonica and a chorus so punchy, you will find yourself singing along to it, in your car with such enthusiasm, "I knew you'd make, knew you'd make/ I knew you'd make a beautiful corpse/,"  that the people at the stop-light next to you will accelerate at much faster pace than normal. Fists will be waived in the air, Some 'effed up choruses will be sang…and you will love it. "Beautiful Corpse" is also set to be the first scheduled video released from "Rope Burn".
And while it's understood that the songs on Rope Burn don't serve as some sort of confessional for the band's main songwriter, Cragmire Peace—not without an active search warrant, that is. They are clearly a dark dive into fantasy and not a way of life for him and his band. But make no mistake about it—the Bloody Jug Band is not to be taken lightly. These are seriously talented musicians with an obvious kinship with the gothic-folkloric tales of the dark, dirty south they're from. You can tell that this is the kind of band that is best savored live and puts a full on production onstage, dressing every bit the part as a backwater- bayou-insane-serial killer.
You will see skulls and there will be songs about the devil. And if Rope Burn is any kind of a peek into The Bloody Jug Band's live show, than I can only imagine there will also be non-stop foot stomping, hootin' and hollarin' and plenty of hand claps from lots of rowdy folks drunk on whiskey. If you claim to love music and have an affinity for roots, the blues, rock and roll, outlaw country or just plain ole' americana bluegrass, get this album. It won't disappoint.
Visit The Bloody Jug Band Official Website: www.bloodyjugband.com
Listen to Rope Burn on Spotify: http://open.spotify.com/album/0rISJwiebsaRshEaMk1usQ
The Bloody Jug Band YouTube Page: https://www.youtube.com/user/theBloodyJugBand