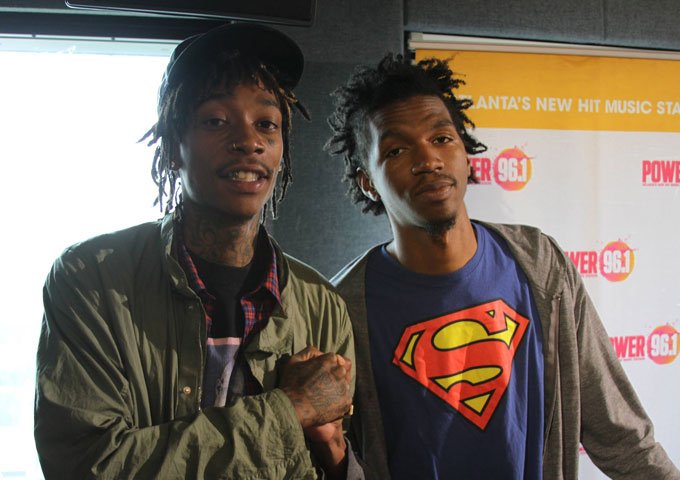 Jump started and driven by his sister's belief in him, NOVI began to perform around his hometown of Pittsburgh, Pennsylvania. After making a name for himself in the local hip hop community, alongside artist such as Wiz Khalifa, Boaz, and Mac Miller; NOVI would make his way to Atlanta, GA. Moving on faith and an undying dedication to his craft, he would rub elbows with Jermaine Dupri, T.I., Nelly, Trey Songz, Big Sean, Rick Ross, J.Cole, and many, many more.
Spending years just under the industry radar, the stage seems set for "his time". He hopes to create a legacy in music that lasts far beyond his years and if for nothing else, to show his lone daughter, Jozi, she can do anything she sets her mind to. Often his rap style is described as "bouncy", "explosive" and "colorful". GO Magazine calls him "One of those all-too-rare musicians who understand the difference between playing a gig and delivering a show".
When and how did you get the moniker NOVI NOV?
NOVI NOV: My friends in music have always called me some form of that name. It really derived from one of my old friends Zach Kumer who I made music with as a kid, he called us NOVATRIBE, I held on to the NOVA part to pay homage, and people kept calling me Novi or Novi Nov…..so that stuck with me. Kinda represents everyone that I've met along the way.
Who more than any other influenced your style?
NOVI NOV: LL Cool J really influenced me THE MOST. Just the epitome of cool and talented and all the girls loved him, and he could kill any MC….he really is everything hip hop to me.
How do you separate yourself from other artists right now in an industry thriving with new emcees?
NOVI NOV: I think for me it's about growing in MY place, planting MY flag, doing MY thing. I really don't concern myself with others so much. I have spent a really LONG time just trying to understand what the fuck I'M DOING let alone try to decipher somebody else years of life. I really just enjoy other emcees and focus on being a dope musician in MY way. I don't really get hung up on other artist TOO much. You be you. I'll be me. We'll be fine.
2015 was reputed to be the biggest year for two of Pittsburgh biggest Hip-hop stars, Wiz Khalifa and Mac Miller, yet critics are saying that Pittsburgh hip-hop faces a cloudy future. How do you feel you can change that prediction and be embraced by the entire City?
NOVI NOV: I think one of the great things about myself and others like me in our city, is we just are non-stop grinders. We never stop going, creating, building, fighting…..we just have this incredible ability to withstand storms and challenges. Our future will always be bright. I believe right now is a great time to BE a Pittsburgh veteran artist like myself, who's laid foundation and put in those HARD hours that goes as far back as Wiz and Mac's infancy in our city. I think a lot of our people KNOW the importance of us getting another guy in the mix and I think it has to be someone who understands what it takes to sustain our future. I've been in the trenches; I think guys from all over there can tell you: I was REALLY THERE in the trenches with everyone when there was no scene and we built one together. We just need someone to stand for those people and cultivate a next generation of artist to follow what we did.
According to Paradise Gray, a hip-hop aficionado who witnessed the '80s New York rap scene firsthand before relocating to Pittsburgh in 1992, the Pittsburgh sound exists — it's just credited to another section of the country. Would you label your sound as being representative of Pittsburgh?
NOVI NOV: I don't think I'd say I am THE Pittsburgh "Sound". I think I am a clear example of the diversity in Pittsburgh music. I am something of a 'seasoning' of Pittsburgh. I give you a piece of a person from our city.  I don't think I'm creating a popularized 'hey everyone THIS is the new Pittsburgh sound' thing. I am probably the best representation of our VARIETY as a whole. Something other artist can take pride in knowing they can be creatively free and express our variety even more than I in the next generation.
The title for PITTSBURGH'S NEXT WIZ KHALIFA is up for grabs. Some pundits have been pointing to emcee and political activist Jasiri X who has been building his national profile. Which path will NOVI NOV be navigating to get to the top in this title race?
NOVI NOV: Jasiri X is my BROTHER! Love him to death. I think the "Next Wiz Khalifa" thing is more of a "WE" than an "I". There is SO MUCH left on the tree in Pittsburgh, I believe I am an extremely important part of that. I think my brothers in the city know that I am important to the "WE" aspect…just as Jasiri is important to the "WE" and a lot of others. I think time will tell the full story but I definitely think if I just focus on doing ME….."WE" will be the next Wiz Khalifa.
You had props from Missy Elliot who has been encouraging you via Twitter. You have had Mr. Porter of D-12 send you messages of love. You met with Interscope Records in Atlanta and their love for your new single "Thinkin Bout Ya". How does this all fit into your game plan and the scheme of thing to come? 
NOVI NOV:  My new single "Thinkin Bout Ya" is one of those infectious, bouncy records I do out of habit. It's really grown legs and I think every piece of those things you stated are important but they'll be important along the path of work. Missy is incredible; Mr. Porter and I go back and forth. I mean, the universe is TELLING me these people are waiting. Interscope is watching the growth of my new song "Thinkin Bout Ya" VERY closely, we've had talks and exchanges and it all really comes down to execution on my part. That's really the game plan right now. That song is everything.
Thus far what do you consider a really successful or high point in your career so far?
NOVI NOV: I think the high point of my career is this song "Thinkin Bout Ya". This song has changed my life so far and I can feel the energy of my career changing drastically. That is exciting that what I'm doing NOW feels like the highest I have been and I only see the sky from here.
How is the music and lyrics in your songs developed? Could you explain your process?
NOVI NOV:  I kinda just go with it, I let the music guide my words and I never force anything. I let me be me and I don't overthink ANYTHING.
What do you feel your listeners should get out of your music and specifically out of your new song "Thinkin Bout Ya"?
NOVI NOV: I think listeners should just get whatever they feel they need to get from my music. I was sent here to entertain people and in doing that I have found my therapy and life coach in this music. I can only hope my music transfers what it does for ME….to anyone who listens.
What has been the most difficult thing you've had to endure in your life or music so far?
NOVI NOV: I think almost losing my mother in 2015, was particularly difficult to comprehend, but also one of those powerful moments that will stick with me for a VERY long time. You find out the person you were raised to be vs. the person you are supposed to be in times of adversity like that. That was definitely a hard one.
If you had the opportunity to change one thing about the music business, what would that be?
NOVI NOV: The power of a gatekeeper. I think there are A LOT of very questionable powers that be and I don't love that. I think that's quite frustrating in fact. If I could delineate the power of the gatekeepers of music, I'd do that in a heartbeat.
How do you market and manage your music career? Do you have a management team or do you control everything by yourself?
NOVI NOV: I work closely with allies here and there who can assist me at points, yet I actually do keep the ship afloat by myself. I have no direct manager, though there have been talks. I have no strong solid team built, though there also have been talks there. I am a one-man army still for the most part.
What does your family and close friends think of your artistic aspirations and performances?
NOVI NOV: They are happy for me. They know how long I've been working. They understand the heart and passion behind it. I talk to them all the time, I explain to them all the time. They have HELPED ME financially handle some of it. They understand what it is I'm trying to do here on a larger scale and they love it. I'M SURE THEY FREAKING LOVE IT. Damnit!
If someone has never heard your music, which keywords would you personally use to describe your overall sound and style?
NOVI NOV: Colorful, Bouncy, Intricate, vibrant, expressive, energetic…..I think those are the first words that come to mind.
Besides reaching the top in Pittsburgh, which other goals have you lined up in your ongoing strategy?
NOVI NOV: Well, obviously, I wanna take this music to the next level. We are IN POSITION if you will, and it really rests on the arms of execution at a high level on my part and the support of my records such as "Thinkin Bout Ya" and other projects.
Do you consider Internet and all the social media websites as fundamental in building a career in music today, and what is your personal relationship with the new technology at hand?
NOVI NOV: I use the different social media stuff to tell my story. Snapchat is personal. Instagram is color commentary and expression. Facebook is also personal. Twitter is my fun space. I use all the platforms to just tell my story from my angles. It's truly important to connect as much as you can with be it 1 person or 100 people. I take advantage of that opportunity everyday. These platforms can single-handedly build a career in music. It's been proven countless times now. But I don't ONLY rest my hat in that space anymore, as I once did. I've learned you need a few other tools too, but that's a whole other interview.
What do you feel is the most pressing or important problem in our society now, and how do you feel your experiences as an artist can aid these issues?
NOVI NOV: I think self-evaluation and self-assessment might be the realest problem our society faces. How many people can look in the mirror and say "I don't like that image, I'm gonna fix it". I think my music and my experience as an artist can speak to the power of always reevaluating yourself and searching for betterment of yourself. That can span from finances to religion to race to anything. You have to check yourself, I think being an artist TRYING to improve every day, you have NO CHOICE but to self-evaluate and make yourself better. It's an incredible reinforcement that being an artist affords you.
If you only had five minutes on earth to perform one of your song that could leave a major impact on this world, what would that song be and why?
NOVI NOV: I don't think I've made THAT song yet. I will. I can't wait to. That drives me every day.
If you had to think of a slogan that could leave a positive impact on fans, what would that slogan be?
NOVI NOV: 'IT'S CULTURE CRAZY' of course! I'll explain what that means one day!
OFFICIAL LINKS: WEBSITE – SOUNDCLOUD – SONICBIRDS – VEVO – FACEBOOK