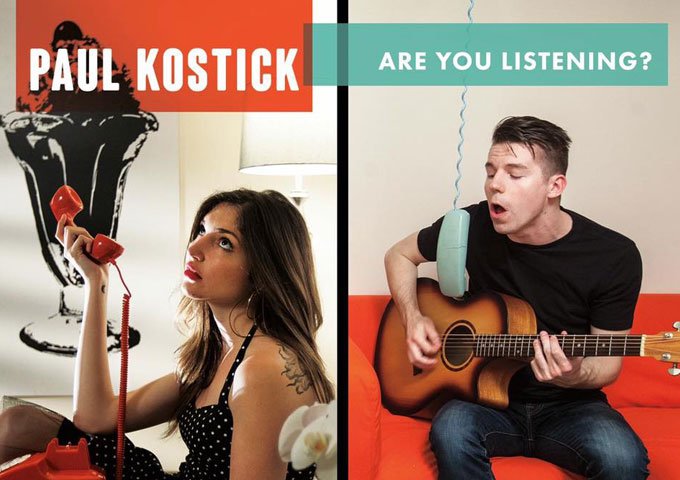 Paul Kostick is a singer-­songwriter from Pittsburgh, Pennsylvania, who delivers acoustic-driven pop-rock tunes accompanied by soulful singing and catchy melodies. Paul's brand new 4-track EP, is entitled "Are You Listening?" Kostick hasn't hit complete stardom just yet. But this EP will launch him a bit closer than he was before. From the moment that I put the recording on, I was pleasantly surprised at how solid and intense the music sounded. The opening mid-tempo "Magic" is a playful and uplifting romantic song that grabs your attention and makes you smile.
"Pushing" was also a very nice change in pace, and some of the sound effects and how his voice weaves in and out of the beat just creates this increasing feeling of building energy. I think that's what I like most about Paul Kostick; his voice and the way that it blends in with the music and just amplifies every song. "17" reminds us of our first head-over-heels love stories that seemed to have somehow ended before they even started, and long before we really wanted or believed them to.
Filled with hook heavy twists and turns, the new record holds a steady balance between summer sing-along love anthems like "Directions" and somber introspective ambiance, as on "Falling". It's got a certain sense of consistency that's hard pressed to find in the industry today – especially off a young new artist.
Although Kostick is certainly in a position to phone-in a mainstream sounding recording just for the purpose of scoring big, the tracks instead have a certain sense of flare to them that's far from just a flash in the pan.
Any one of the 4 tracks on "Are You Listening?", could easily become successful mainstream singles. With killer hooks and life-like topics, you may fall in love. Paul Kostick has conquered the act of motivation through song.
His lyrics are both inspiring and true, but with an around the way breeze that's both fun and energetic, as well as relatively personal. And although love is the essential bubble, it isn't wholly in the romantic sense, it's in internal form.
Kostick has the kind of voice that can experiment with opposed genres. Sometimes it's Americana-like, like on "Falling", and then happy go lucky pop on "Magic", but the aspect that stays the same is his contemporary soul that croons just right every time.
Production is standard high quality protocol, "17" and "Directions" are standout tracks that play big on layers, tempos and moods throughout, which add that needed sophistication.
"Are You Listening?" is filled with realizations of love and life. It's music for summer nights, its music for the dreamers; its music for romantics and lovers, its music for a generation growing up. This EP gives listeners an opportunity to jump aboard the Paul Kostick train, before it switches stations and reaches bigger destinations. The dude definitely has talent, no question.