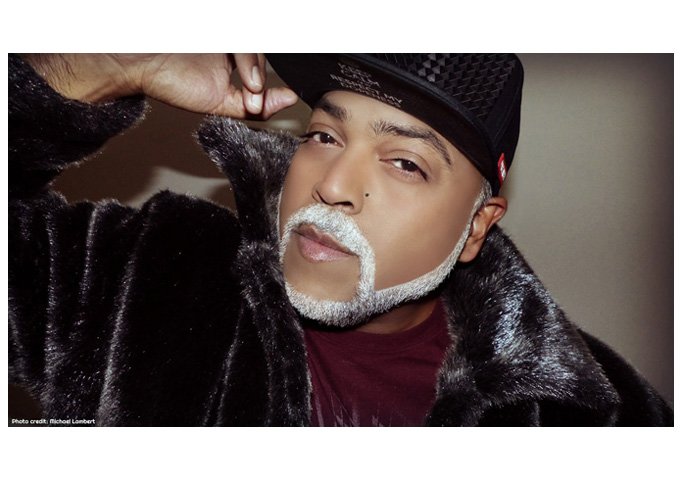 AMARU – a singer-songwriter and a trained actor, originally from the Republic of Suriname residing in The Netherlands since 1991 – has found critical success with enough Pop, Rock, R&B and Electronic influenced songs that there's plenty of demand for more, but there's nothing like hearing the gloriously hard-nosed Dutch artist rap a beat to shreds. This is something he does not often do. Now on his latest release – "CHAMPAGNE ATTITUDE (RAP-TITUDE MIX)" – we get to savor just that. The song is rap remix of the title track of his debut album, and is a completely new version, with different lyrics and a different beat. Most exiting of all, the track is totally on fire, and definitely stands among AMARU's best musical performances yet. It is edgy, aggressive and uncompromising. Unflinchingly following its lyrical narrative, which deals with adultery experienced and dealt with from a man's perspective.
AMARU's disdain for cheating can be heard in his voice. The Netherland's singer-songwriter's bars are filled with relationship affirmations and warnings, culminating in the chorus which flatly draws the line:  "You're driving me insane. I'm sick and tired of your champagne attitude." A surprisingly intense rapper, AMARU's delivery is fueled both by reckless abandon and focused reasoning, with an almost impatient thirst for emotional adrenaline and a flagrant distaste for infidelity.
In keeping with his reputation for creating exhilaratingly emotive, and fiercely honest tracks, on "CHAMPAGNE ATTITUDE (RAP-TITUDE MIX)" he yells passionately over a grandiose rhythmic beat.
There's one line in particular which makes a vivid impression in my mind: "So please help me to understand. You had your heels in the air for another man." It's hard not to have an imaginary vision of this scene in front of your eyes.
So when AMARU closes the phrase with: "Now I ain't the one to call you ho, but ho, let me tell you, it's time to go," you can't help but empathize with the narrator. "CHAMPAGNE ATTITUDE (RAP-TITUDE MIX)" shows an artist possessed by a barreling energy that few others are currently harnessing. And while riding the kinetic beat, his verses indicate that he's never had so much at stake on a personal level.
Throughout the brand new single, there's more urgency in both AMARU's bravado and his reflection. Thanks to that bravado, "CHAMPAGNE ATTITUDE (RAP-TITUDE MIX)" can be described in one word: exciting. And while much of this song's strength comes from AMARU's impenetrable flow and the grandiose production overseen by himself, alongside Marcel van Ling, he has plenty of things to say.
His language tends to be focused and direct, and there's wisdom in his grit. Here AMARU backs away from his euphoric pop and rock flavors, in favor of a street rap styling. And he sounds really comfortable doing it.
AMARU proves himself to be an incredible rapper, considering his singer-songwriter roots, and he's got enough energy and intellect to potentially shake up the game from his end. It's good to have him back, so early in 2019, with an unexpected out-pour of freshly made urban-inclined bars which allow him to flaunt his raw appeal. Then again, AMARU has more than done enough with the release of his debut album, and now this brand new single to earn a spotlight for himself.
OFFICIAL LINKS: WEBSITE – MUSIC LABEL – STORE – TWITTER – FACEBOOK – INSTAGRAM