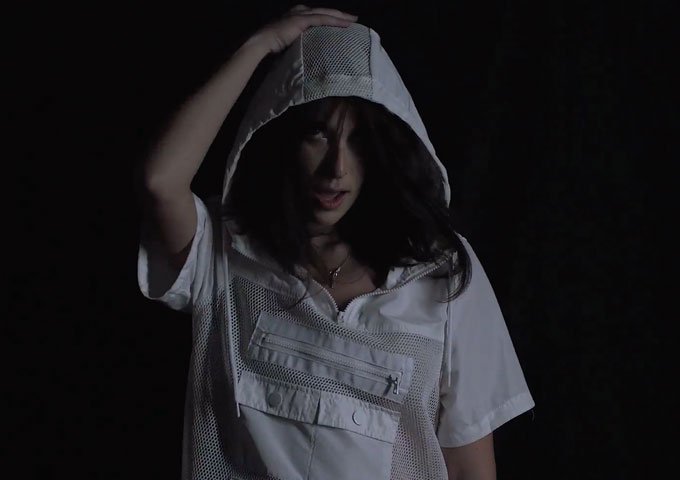 Janna Pelle is a unique songwriter and singer, in that she actually writes and sings all of her own material. You can tell by the elegance of the music and the depth and wit of her lyrics that she's not a cotton candy entertainer who steals her writing credits by inserting a note or beat into one part of a song and then calls herself a songwriter. All of her music is her own and it shows because everything comes from her heart and soul. She impressed in 2016 with "Favorite Customer", and then again in 2017 with "One Day At  A Time". She's back with a brand new single and video entitled "Died Trying", which affronts the theme of how we embrace the inevitability of death. Directed by Audrey Lorea, the music video is a visual remix of the concepts of mortality and grief. It unfolds a Dia De Los Muertos theme and transplants it into a space-age mid-century-art infused video collage.
The uplifting mid-tempo alt-pop track is quintessentially Janna Pelle with her signature vocals moving from deep tones to soaring high notes. The chorus has a beautiful melody as the richly layered synths and resonating basslines are propelled forward by hard hitting drums, pulling back the curtain on the fear of death.
Despite to what the theme might allude to, listening through this music is absolutely cathartic, leaving room for only the positive thoughts in your head afterward. "Living in fear will only paralyze your heart," sings Janna. With an infectious rhythm and the rich, deep versatility of Janna Pelle's voice showcased through the inflections between her deep and high notes, this song is by far one of her most memorable.
When the seismic bass driven beat eventually drops in under the escalating synths and whistling motif, the only thought on your mind is how you wish you were at a live concert to feel the song's full, pulsating energy. Moreover, Janna's expert sense of lyricism allows her to paint such a vivid picture you have no issue imagining exactly where she is in her mindset.
"Died Trying" is a slap in the face to remind you to focus on, and enjoy the good in your life. "If I could see into it I wouldn't change anything. If I died at least I'd know I tried," she sings. Janna always wraps her narrative in a musical soundscape that draws us together, making us enjoy using the finer processes of thought.
"Died Trying" sits near the top of Jana's most captivating songs, crafted so elegantly you can physically feel the emotion she is describing. She shows that once we come to terms with the life we're living, there's still light at the end of the tunnel.
Of course she is magnificently aided by the visual directed by Audrey Lorea, which enhances the narrative with its well-shot footage, confirming and elaborating on the storyline.  Impassioned and powerful, "Died Trying" is a song that has enough graceful sways and bright corners to keep the listener's focus firmly hooked, showing that when Janna Pelle is playing to her strengths, there's no stopping her.