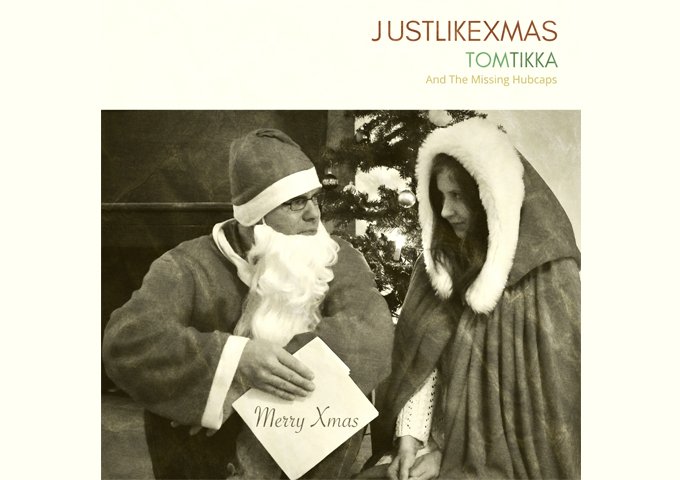 Music has long been part of the cultural phenomenon of Christmas. Perhaps there's no holiday worldwide with more music than Christmas, which owes something to the cultural and commercial machinery behind the holiday. When modern artists produce Christmas songs, they often stick to old standards. The reason is simple; since celebrating Christmas has almost everything to do with nostalgia, those who curate music today know that those old images and sounds are certified to resonate commercially. Sadly, that Christmas song you write and record today probably won't make it big, as those over reworked oldies from yesteryear.
And that's why I hate almost all the music released for the holiday season. It's simply geared to cash in on our cheapest sentiments…over and over, and over again. However, every now and then, an artist writes a Christmas song with noble intentions, which not only sounds good, but also delivers an interesting message.
One such artist is Tom Tikka & The Missing Hubcaps. The Finnish singer-songwriter has released "Just Like Xmas (Love Is War)" which in a way is an ode to John Lennon. Even the single's artwork pays homage to Lennon's classic, "Happy Xmas (War Is Over)." But it also represents a personal catharsis for Tikka, who was going through a tough period at the time of writing this song.
Tom Tikka himself explains: "This was a time of great stress for me, as I was going through a divorce. It was my first Christmas alone without the kids, and I have never felt as sad and out of sorts as I did then. I had a little miniature Christmas tree on a chest of drawers I'd had since childhood and a bottle of Jim Beam to lift my spirits. To make the time go by faster, I picked up the guitar to play some Christmas tunes. I went through quite a few old standards before a grain of an idea for "Just Like Xmas (Love Is War)" started playing in my head."
In music criticism, one often runs into trouble when trying to describe sustained, consistent excellence. But what is there to say about an artist who sets an imposingly high bar, then routinely clears it again and again. Such is the case with Tom Tikka. He was a member of Sony/BMG-signed Finnish band, Carmen Gray, and then went on to form his current group The Impersonators with poet Antti Autio. All the time releasing music that excelled in its craft.
In 2020, Tikka began working with MTS Records and released a solo EP titled "Working Class Voodoo" under the name Tom Tikka And The Missing Hubcaps. On this self-produced venture, Tikka plays and sings everything himself. On July 31, 2020, Tikka & The Hubcaps released the "Insane" EP on MTS Records, and now, rather expectedly, comes "Just Like Xmas (Love Is War)". And gain, excellence remains at the core of Tom Tikka's music.
The first bars of "Just Like Xmas (Love Is War)", are what you would expect – a laidback entry into melancholic nostalgia, but it's when Tom Tikka's mahogany-smooth voice bursts into its upper register and cleaves clean through your solar plexus, on the chorus that it offers its most thrilling and dramatic moments. Behind Tikka, the multi-layered soundscape forges forth with rich harmonies, strings and of course the Beatlesque horns.
"Just Like Xmas (Love Is War)" is as meticulously sung, performed and produced as you'd expect. It delivers pure, primary-color emotions, perfectly sculpted by a songwriter saying exactly what he means.