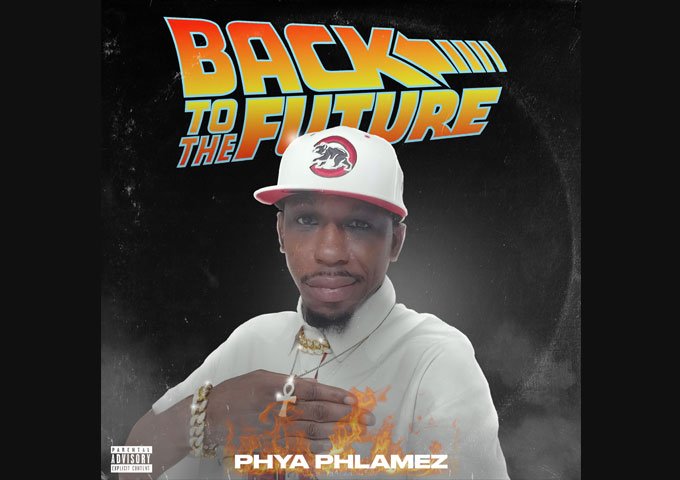 Antonio Clark aka Phya Phlamez (Fire Flames) is a 35 year old US Army veteran. He started rapping at the age 15, and is signed to independent label Writin Money Records LLC. Hailing from Columbia, South Carolina, the rapper sounds like he is on a mission to transcend many of his contemporaries while legitimizing himself within the music industry and becoming a buzz-worthy artist from his state. South Carolina hip-hop is interesting because it doesn't seem to be stuck to any true rooting. There are spitters dropping a variety of bars. Sometimes they're leaning more towards drill or trap, other times it's more melodic or conscious.
A common theme many of these rappers have, and which also defines Phya Phlamez, is that he approaches the mic with aggressive confidence that often comes across casually. Phya Phlamez typically leans more towards cutthroat bar delivery and direct, outspoken wordplay.
All of which you can witness on his track "Back To The Future". Here he elevates his stock to unprecedented levels. The song captures Phya Phlamez displaying the breadth of his artistry.
Phya Phlamez bulldozes through the competition with his new single "Back To The Future". Structurally inventive, lyrically deft, passionate and focused, the rapper rides the head-nodding beat with diligence and ease.
It's imperative to recognize that Phya Phlamez's continual momentum is informed by his passion for the game. His outspoken rhetoric quite literally oscillates between rhyme and reason. This duality boldly shapes his songs which range from boisterous anthems to intrepid introspection.
Not only has Phya Phlamez fully developed his musical chemistry, but he has also perfected his craft while still maintaining urgency, depth, and resilience. Boasting a rhythmic and soulful production, "Back To The Future" meets Phya Phlamez's whirlwind and bombastic voice, while his steadfast cadence reiterates his magnetism. The result is a track that is potent in both its sharp delivery and colorful imagery.
Phya Phlamez never phones in a verse, delivering each word like it's an urgent, fleshed-out mantra you should know better than to ignore. The rhymes are devastating. The beat is addictive. The entire package is unrelentingly forceful.
"Back To The Future" is filled with thoughtful, penetrating moments, tightly wound up in a bona fide banger. Make no mistake: the hard-driving, hypnotic rhyming, with dirty basslines and agitated keys add a heads-nodding groove to the proceedings.
 "Back To The Future", with its empowering proclamations, buoyant production, and vibrant soundscape, feels like just the beginning of something even greater for Phya Phlamez. This is a track pulsing with groove and energy; the world may be on fire in these troubled times, but so is Phya Phlamez. "Back To The Future" is a clever, impactful and banging record that will keep you coming back for more.
OFFICIAL LINKS: FACEBOOK – SOUNDCLOUD – REVERBNATION