Nashville-based guitarist, songwriter, and singer, Meg Williams, performs at notable venues across the country with her full band, as a solo/duo act, and as a guitarist for other artists. She's done a pre-show performance for the Jason Isbell Show, opened for the band America, and performed as a guitarist for blues legend and festival headliner, Benny Turner, among a long list of achievements and events. Meg recorded her 2019 full-length album, 'Take Me As I Am: The Muscle Shoals Sessions', at the legendary FAME Studios in Muscle Shoals (Nola Blue Records), and released her latest Nashville recorded project, 'Live and Learn', with musician/producers Terry Goose Downing and Tom DelRossi, at the end of 2021.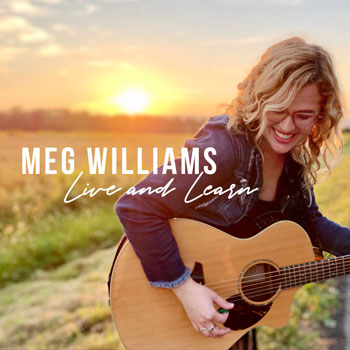 'Live and Learn' consists of 9 songs, written by Meg Williams throughout 2020 – with 'Right Man, Wrong Time' co-written with Scott Barrier, and 'Real You' co-written with country artist Dakota Danielle. This new album is the expansive next step Meg has been working toward all along.
She has broadened her sonic palette, and beneath the musical flash, Meg Williams is even more confident in her abilities as a writer and performer. She is not only a meticulous lyricist with a clear perspective, but she is also deeply focused on the power of her musical language, and her guitar.
Meg Williams uses this record to not only express her experiences, but to push her sound to another level. A peerless guitar player, here the instrument is both, plugged in and plugged out, and at most times sweepingly smooth. Moving between a soulful electric and an atmospheric acoustic, the guitars provide fundamental textures throughout the album.
Meg's voice is on incredible form too. The opening title track, 'Live and Learn', allows her to unleash into an ear warming chorus, which really sets the tone for the album. 'Messing With A Good Thing' certifies how effortlessly Meg Williams moves between her vocal registers. There is a great no-nonsense clarity to the song, and the imagery Meg chooses, is easily accessible to the listener.
The acoustic guitars form a luscious backdrop for Meg's breathy and urgent vocals on 'Break My Rules', which also unleashes a gritty, dirty and soulful blues-driven guitar solo. The guitars are crisp and clean on the funky and upbeat momentum of 'You're The Only One', and when the chorus line comes in, it sounds nothing short of triumphant.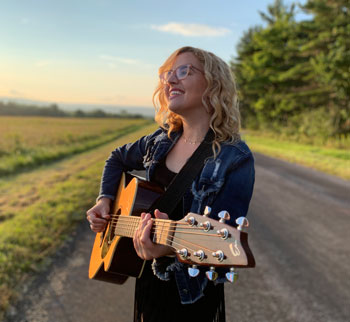 The deliberately strummed acoustic guitars are again central in propelling the strict rhythm of 'Give It Time', as the finely crafted lyrics weave in and around the healing from love's most tortuous moments.
Both, 'The Reason' and 'Feel That Way' sit comfortably in its mid-tempo beat and organic instrumentation, as Meg Williams' vocals effortlessly flow over the top, the sapient notes of her guitar always at hand to further color the tones of the musical template.
Meg Williams may be leaning on her guitar and vocal skills sound-wise, but as a songwriter and storyteller, she also shines in her own right. Her songs are pointed, specific and evocative. 'Real You' and 'Right Man, Wrong Time', show off a completely different set of skills – Meg's ability to collaborate, and convincingly interpret co-written songs, as if they were totally her own creations. Meg's music has a distinctive vision and style that sets her apart from the average singer-songwriters.
The 9 songs on the album 'Live and Learn', each feel like a vital progression of an artist who is reaching the pinnacle of her musical powers. Meg Williams perfectly captures the moments in life that are spinning and spiraling with the magnitude of love and life.
OFFICIAL LINKS:
Website: www.megwilliamsmusic.com
Facebook: www.facebook.com/megwilliamsguitar
Instagram: www.instagram.com/megwilliamsmusic
YouTube: www.youtube.com/megwilliamsmusic
Twitter @megwilliamsband