Granted, the song styles and arrangements are familiar, but Doug Cash's resonant voice and his signature guitar seem imbued with a renewed energy and intensity on what is most definitely another career high with "Secrets" ft. Lauren Wakefield. The song mix and mashes a blend of expansive rock, pop and hip-hop. The President of Pryor 2 What ? Records & Music Publishing, Doug has spent over 30 years on stage throughout Northern and Southern California. At the same time, he has also dedicated diverse decades to the studio building his publishing catalog in multiple genres. Raised on Big bands and bebop, Cash was also influenced by artists such as, Sly & the Family Stone, The Beatles, James Brown, Led Zeppelin, Weather Report, Joni Mitchell, Stevie Wonder, Paul Simon and Yes.
Hence, when we encounter a majestically cross-flavored track like "Secrets", we should not be surprised at all, as it forms an integral part of Doug Cash's eclectic musical DNA. The song is a sprawling, borderline-brilliant amalgam of musical ingenuity in miniature, and, for those four and a half precious minutes, it feels like Cash is giving us a long-awaited resume of his entire songwriting skillset, in one brief sitting, as he runs the gamut of diverse stylings.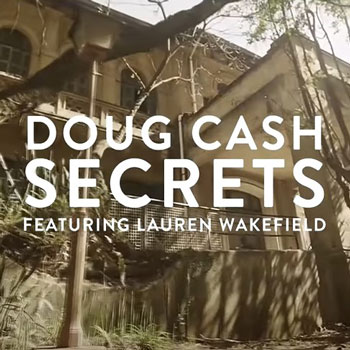 Doug Cash manages to sound like he is freestyling every single idea – a brilliant combination of organic musicianship and lyrical idiosyncrasy that few, if any other singer-songwriters could pull off, right now. That is not surprising either, as Cash hails from the old school of music creatives, when the art was more about artistry, than it was about commerciality.  On "Secrets", Doug's vision goes beyond that of the predictable composer.
Doug Cash retains the not-so-subtle lyrical barbs of his previous works, enshrined as they are within resilient, expansive, piano and guitar drenched vignettes and a solid rhythm. Doug is renowned for his straight-to-the-point storytelling, as he cuts to the core of his themes quickly.
Something he already achieves in the opening lines of "Secrets".  I've had plenty of positive words to say about his lyrics in the past, but even those seem to be getting better. It's impossible to listen to one of Cash's songs without paying close attention to what he has to say.
Doug Cash's vocal power, as ever, also illuminates the smart songwriting. On "Secrets", he sings with the sort of assurance that only ever tends to come from this kind of old hand at the trade.  By far the best thing about this single is that it gets better with repeated listens. "Secrets" gets better if you give it some time to sink in, and considering these lyrics are so interesting, and Cash's vocals are consistently charming, you will almost certainly want to give it that time.
The early '70s was the era of the singer-songwriter, but "Secrets" so thoroughly encompasses that spirit, while adding in the creative grit of rock, and the edgy urgency of hip-hop, that topping this composition seems unsurmountable by any other solo independent artist of this kind.
OFFICIAL LINKS:
Spotify : https://open.spotify.com/playlist/2BpVClvJSIxOLzBrI9cuuQ
YouTube : https://www.youtube.com/channel/UCsod5qKJgMKbHtrnnEvsimQ
iTunes : https://music.apple.com/bs/album/the-acoustic-rock-onslaught/992191512
Amazon : https://www.amazon.com/dp/B0741T75LY/ref=sr_1_5?keywords=doug+cash+all+the+best&qid=1641864560&s=dmusic&sr=1-5
Instagram : https://www.instagram.com/dougcash53/