In 1989 when the album "Headless Cross" was released, it was met with explosive reviews and swept the U.S. and England. Before its release, Black Sabbath had been in a slump for years during the 1980's struggling to find new material and a worthy new singer. Tony Martin came to the rescue, and delivered a powerhouse performance for his second Sabbath album, which was by far his best, in his time with the band. "Headless Cross", the band's fourteenth full-length record, was easily Sabbath's best album since the 1980 release of "Heaven and Hell". The title track "Headless Cross" was released as a single in 1989, and featured Tony Martin (vocals), Tony Iommi (guitar) Laurence Cottle (bass) and Cozy Powell (drums).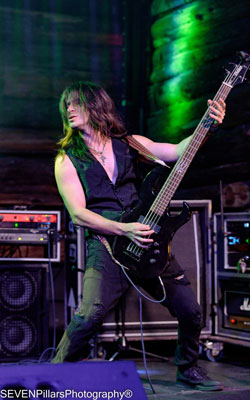 Now 33 years later, Allard – a solo side project of guitarist Jake Curtis Allard, who is also the guitarist of Bomber Alley and Kimes, as well as the bassist of Christian Shields – releases its cover of "Headless Cross",  featuring the Italian Opera singer Alex Granato on vocals, Glenn Wellman on drums, and Andres Natalino on bass.
Right off the cuff it's clear that Allard have no intentions of blatantly overturning the original arrangement, as they stick closely to the script, simply allowing their own musicality and technical bravado to shine through, in what is already a powerhouse of a song.
A lot of the fuzzy, downtuned gloom that permeated Sabbath's early efforts, were replaced by thumping power chords and catchy guitar licks on "Headless Cross". All of which Jake Curtis Allard beautifully reproduces with his own vibrant tones and twists here.
At the same time, Alex Granato delivers a fantastic vocal performance, easily reaching out to those high-flying notes, while the engine room of drummer Glenn Wellman and bassist Andres Natalino drive the chugging momentum with unabashed authority.
"Headless Cross" is epic from start to finish, and Allard are on fire all the way through. Dark, evil, and menacing, this single harks back to a time when metal had a soul, and a beating heart.
The band sounds defiantly contrary to the auto-tuned, digitally quantized musical world in which we now live, preferring to create a full organic experience for the listener. Allard spares no expense to the listener's ear, where you can pick out every little nuance imaginable from every instrument present.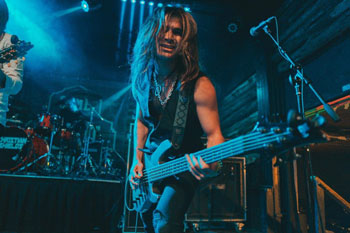 "Headless Cross" is a vast, sprawling work, in which every detail, every note and nuance, each rhythm and sound, has been deliberately and carefully redone, after much consideration.
Ultimately, the instruments do plenty of heavy lifting and flex at full throttle while the vocals offer a dramatic and enthralling approach, weaving through the song in a truly confident, perfectly tempered, and immaculately phrased fashion. Jake Curtis Allard and his Allard project do absolute justice to the Black Sabbath original in every sense.
To explore and find something worth listening to from another musical era, and then craft something that feels naturally fresh and grand from it, for this era, is a talent and a skill of which Allard seem to be true masters, judging by the outcome of "Headless Cross".  The band's cover of the Black Sabbath classic lives up to its daunting expectations, showcasing Jake Curtis Allard and his crew, in peak performance as musicians.