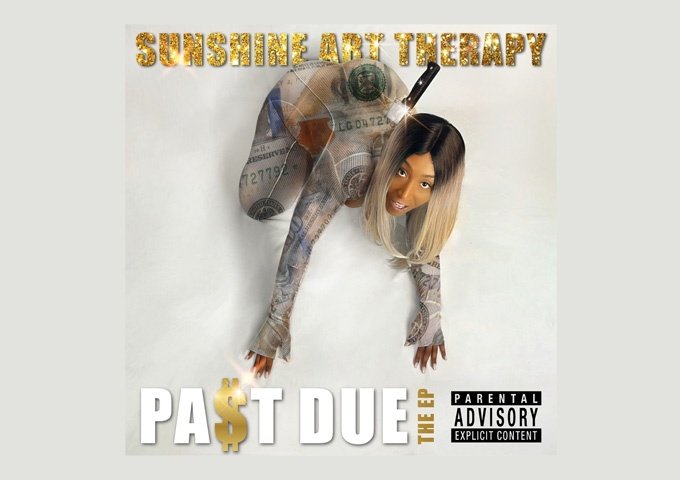 The "Past Due" EP is a recording born from personal experiences in Sunshine Art Therapy's life as she explores an intimate journey of survival through a toxic relationship. It is a voyage of emotion through song, and it's an example of talent and exceptional artistry from Sunshine Art Therapy as she has produced an incredible record to add to her curriculum. A record filled with raw feelings –sometimes humorous, sometimes dramatic – it allows the listener to step into the vicissitudes the artist has faced whilst also leaving them feeling hopeful for the future.
The EP is in the basic of terms simply beautiful and is a must listen for anyone and everyone whether you want to delve into the lyrics and emotions or just enjoy an artist that set's herself apart from the well-worn clichéd track of hip-hop and pop wannabes. I'd recommend this as compulsory listening for anyone, because it brings something vigorously dynamic and real to the table.
As a result it embodies freedom and a celebration of self-empowerment – a perfect lesson for a time when we need to remember we are free spirits, and not bound to be mistreated by anyone, no matter how much we may love or care for them. Sunshine Art Therapy's well thought-out modus operandi is immediately highlighted by her choice to precede each song on the EP with a brief intro, which sets the mood, tone and theme of the subsequent track right from the start.
She kick things off with the "Past Due (Intro)" which simply recites: "You made me have a higher standard for myself." This slides directly into the slow-burning and sultry soulfulness of "Talk to Me". Sunshine Art Therapy's nuanced delivery, is underscored by resonant reggae styled guitars, for added effect. This is followed by, the confrontational "Cheek". Here the rapper, from Jamaica, Queens in New York City, executes her plan of revenge on a cheater.
"Credit" gets deep into the heart of the matter, when dealing with a deceitful and devious partner. The songwriting and wordplay is simply magnificent, as Sunshine Art Therapy unfolds her straight-talking narrative: "Motherfucker talk to me when you got good credit. Better invest now, before you can't afford to get it." This is followed by the momentum-pushing groove of "Muse", which runs on a throbbing synth bassline and beating drums. It is an infectious beat, which is hard to resist.
"Time" is another intoxicating track, which rides on an alluring rhythm and leads into the devastating spoken-word "Talk to Me (Intro)". This in turn leads to, "Talk to Me (Acoustic)" – a raw, stripped down version of the opening track, which is very impactful in its execution.
You cannot fault her vocals or the vibe Sunshine Art Therapy brings to the music. "Past Due "Outro" closes the EP with a monologue that both, concludes and qualifies, the opening statement made on "Past Due (Intro)", right at the beginning, to bring the recording, and listening experience full circle.
The "Past Due" EP achieves a lot with a collection of songs and spoken-word interludes that both work as stand-alone tracks and form a compelling narrative. Moreover, it certifies that Sunshine Art Therapy can rap, sing, and weave together enthralling stories with essential messages. The EP as a whole makes a definitive point about her artistic status, as it sustains her place in the canon of exceptional underground talent. The "Past Due" EP is available on all platforms now.
OFFICIAL LINKS:
https://instagram.com/sunshineforyourmind?igshid=YmMyMTA2M2Y
https://open.spotify.com/artist/2sAKRLrFXXfqQs8TTeG3kj?si=7Tr-8-UCSxyBmUKTxaquNQ
https://music.apple.com/us/artist/sunshine-art-therapy/1539513284
https://youtube.com/channel/UCKulNYn11L7MWoD9IDQQhaA
https://on.soundcloud.com/NtqBKFAuGJkxiYSi9
https://vm.tiktok.com/ZTRaEEVMs/