Dub Propulsion is both a musical group of diverse musicians and contributors, as well as record label started in Humboldt County CA, in 2018. They work with Dub, Roots Reggae, Digital Reggae, Steppers as well as modern styles and remixes. Founding musicians Tanasa, Ryan Kaptain Bley, Joey Incorvaia, DUBROBOT Serg Mihaylo, Clay Adams, Kris Kemist, along with many other contributors and masterminds, are joined by vocalists such as, Lion Issachar, J.A. Outlaw, Xedous, Burro Banton, Ranking Joe and many more still to come, in creating music, made with heavy sound system play in mind. They are also supported in their endeavors by art contributors, #Jaymorg, The Chopperman , Massive Designs and The Middle Agent.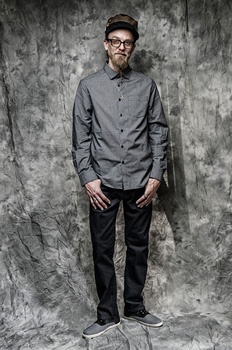 Dub Propulsion now bring us the single "All Day All Night" produced by themselves and Sarge OneWise. The track features Rocker T, who is part of the first generation of American-born reggae artists. He set the trends mixing varied rhythms with toasting, back during the 90's in Brooklyn, New York, establishing a soundsystem in an area that had the largest West Indian population of immigrants outside of the Caribbean. He now resides in the California near the Bay Area.
"All Day All Night", taken from the EP project of the same name, was mixed and produced to a very high standard at Dub Propulsion Studios in Arcate, CA. Musicians on the release include Justin Schwartzman (horns), Tommi Benidetti (drums) and backup vocals by Lorenza Simmons and Biancamankai. Other tracks on the project also include Daweh Congo and Lion Issachar. All are extremely skilled and to be commended, alongside the mastering by DUBROBOT, and the artwork by Chopperman, to complete a well-presented and executed project.
"All Day All Night" takes the Roots vibes and expands further. Here, the bass doesn't miss a beat and the drums are rock steady with the hi-hats doing a suave pattern. This means the track feels forward moving, despite the mesmerizing mid-tempo BPM.
The riffs and riddim run with an intoxicating quality, evoking the message well and feeling very soulful. The backing vocals are on-point – the perfect, mix of straight harmonization and call and response styled interludes.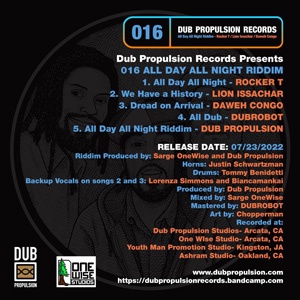 There's magnificent keyboard lines within this, which move around chords, and across semibreves, bringing something delicate to the vibe. They are cleverly in contrast with the stabbing horns, which give the song a sense of urgency.
Rocker T is at the peak of his powers here, delivering a rasping, resonating vocal. His register is revealed with a forthright vocal, to match the lyrical content. Rich and perfectly performed, this is stirring work. All this leaves "All Day All Night" as an emotive and engaging listen.
Overall, "All Day All Night" is a powerful release from Dub Propulsion, Rocker T and the entire crew involved. It's top-quality artistry on display – shown in the attention to detail with the composition and project's passionate, technically brilliant and engaging performances.  The arrangement is slick and ear warming. The production is clean, crisp, and tidy – evocative of the golden days of Reggae.
Musically captivating, "All Day All Night" provides plenty of instrumental and vocal detail to standout in the modern scene. This is another quality release from the Dub Propulsion Records label, and one for any reggae collection.
OFFICIAL LINKS:
Website: www.Dubpropulsion.com
IG: Dub_propulsion_records
FB: Dub Propulsion Records
Buy music: https://dubpropulsionrecords.bandcamp.com/
Email: DubPropulsion@gmail.com
YouTube Channel: Dub Propulsion