Based out of Campbellsville KY, C-Work is an artist, and the CEO of Pure Elementz Recordings. "Paper Elementz" is his debut album. It's hard to find emcees who can both appeal to hardcore traditionalists and make raps that sound contemporary. But this is how a vintage-styled rapper like C-Work steps into the picture. It's clear that C-Work carries the same lyrical prowess that many of his peers brought into the fold in the early days. He, however, does this in a much fresher way, pairing his hypnotic voice with fully fleshed fiery instrumentals. The result is a set of songs that burn with passion and groove.
Right after the opening "Intro (The Elementz)", C-Work jumps into the mix with the back to back standouts "Paper Elementz" ft. Anthony Papers and "Funky" ft. Grilldajerseyboy.
He instantly sets the tone of project flowing effortlessly over resonating and slapping beats while never shying away from letting his rawest thoughts bleed onto the notepad. Every artist seizes their moment, kicking witty bars with the most unbothered flows ever, absolutely bodying the classic sounding instrumentals.
C-Work has a swag of his own that stands out well on "No Breakthroughs" that runs on a repeating musical hook, lending the track a mesmerizing quality. "Stylistics" ft. Grilldajerseyboy rides on jangling guitars, backing harmonies, and a trunk-shaking drum beat.
The classic sounds keep coming on "Bad Baby", which flourishes with plucked basslines and retro vocal samples. C-Work spits sharp stream-of-consciousness bars that spill visceral anecdotes over a punchy beat.
This brings us to "Tha Newz (Interlude)" which bounces on a spacey head-nodding beat, before making way for the darker, grittier and hypnotic "Message In A Bottle" ft. Anthony Papers. The raps worm their way into your brain and refuse to leave. The lyrical exuberance draws you right into C-Work's world and this, combined with the classic production, suggests we're dealing with a real talent who will keep the genre's core elements in place.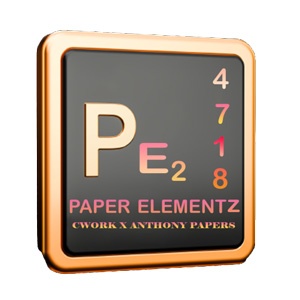 "Another Trip" throbs with all the funk fundamentals – slapping drums, rolling basslines and growling synths. Any artist capable of binding different musical cultures together in a way that isn't jarring is the kind of creative you shouldn't underestimate. C-Work oozes star quality and his deliveries show he's just as inspired by technical rapping prowess as he is by groove-driven soundscapes.
"Flights and Foreigns" slides into a futuristic sonic aura with another infectious vocal delivery by C-Work. His music has a stylistic fluidity that is stunningly surprising as it moves between classicism and futurism effortlessly, a trait he again flaunts on the album closer "Ghost Face".
The genre is in desperate need of artists who can bridge the gap between the past, the present and the future, as there is only a handful of these able practitioners still around. C-Work looks destined to claim his spot on that list.
C-Work weaves in and out of the beats on "Paper Elementz" like a master of his craft. C-Work possesses a down-to-earth humility that makes his hard-nosed storytelling raps feel like they're always coming from a place of fact over fiction.
OFFICIAL LINKS:
https://linktr.ee/pureelementz
https://www.facebook.com/profile.php?id=100064056908605&mibextid=ZbWKwL
https://www.tiktok.com/@pureelementz?_t=8Xh3AIPTbLS&_r=1