The self-titled EP "Human Moods", sounds like a project of honesty, of emotional, sentimental, and physical awakening following life-changing events. These subtle auras are ever-present throughout the recording in varying doses. Along with the combined performing powers of drummer Mike Chasse, bassist Greg Goodwin and Pete Giordano on backing vocals, Human Moods – made up of Chris Muccino (guitars, keys, synth, soundfx) and Sheridan on vocals – have crafted an indie/modern rock album to invigorate the soul, and stimulate the mind. The lyrical detail within the EP is often deeply affecting, but it's vocal energy, grit and guitar-driven groove makes sure it isn't a depressive listen, far from it, in fact. This thing rocks.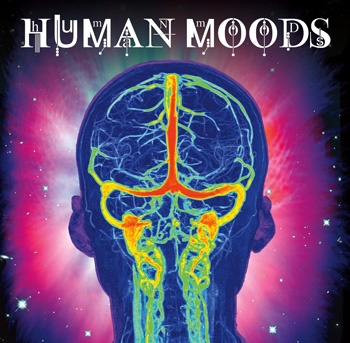 The Maine-based Human Moods formed when Sheridan (Tribal Iris, Heart Shaped Rock) and Chris Muccino (Liquid Daydream, Endless Interstate) had some downtime while recording in 2021 with Forest City & Friends (FCAF), a band they are also both members of. They started with one song, which derived from the backdrop of the pandemic, and then followed it up with five more tracks which was finished in February 2022.
The CD which dropped officially on November 25th, was produced, recorded and mixed by Anthony Gatti (along with Sheridan and Muccino) at his studio The Bulkhead in Scarborough, combined with guitar parts, synth and vocals that were recorded at Muccino's Evergreen Studio in Bath. Mastered at the world famous Gateway Mastering in Portland by Grammy Award winning engineer Adam Ayan.
The wide-ranging appeal of "Human Moods" does not overshadow what is a rock and roll project at its core. An EP with wall-to-wall power and grit. A recording that has endless depth but is open-ended enough to allow listeners to imprint their own personalities on the experiences and narratives contained within.
Much has to be said of Sheridan's incredible vocals, as she steers the powerhouse opener "Four Walls" through a bedlam of both crunching guitar riffs and atmospheric passages. She's just as impressive on the piano and bass dominated "Gold (Au)".
And by the time she sets the nuance of her voice to the majestic bite of "EVP – Favorite Song", the argument that much of the EP's impact comes from Sheridan's vocal tones, is a fair one. A handful of Chrissie Hynde, a tablespoon of Joan Jet and a pinch of Marianne Faithfull, represent just some of her vocal flavors.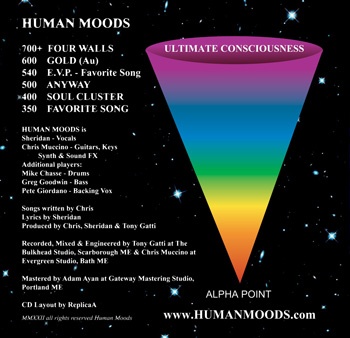 That said, the instrumentation is what lays down the solid foundation on which everything else is built. It's what gives Human Moods their essential rock flavor, and it's no more evident, than on the crushing "Anyway" and "Soul Cluster" where Chris Muccino's urgently overdriven guitars grab the attention alongside Sheridan's heartfelt and sincere vocal deliveries. The EP closes with the poignantly arranged slow-burner "Favorite Song".
Despite both Sheridan and Chris Muccino being veterans and integral parts of various musical projects, not for one second does Human Moods sound like an afterthought or a pastime. It stands as a solid and inspired indie/modern rock project with a whole lot of musical and lyrical magnificence to dispense.
The "Human Moods" physical CD is available exclusively at all Bull Moose stores throughout Maine, with online fulfillment through www.bullmoose.com, while the digital version will be available January 10th 2023 on all of the popular streaming sites like Amazon, Apple Music, Pandora, Spotify, along with many others.
Find the band on Facebook at @humanmoodsmusic and on their website at www.humanmoods.com