Marvin Dark, a Los Angeles native renowned for his genius storytelling, has consistently delivered hits over the span of a decade. At just twenty-six years old, he is a multifaceted talent, excelling as a singer, songwriter, trendsetter, and visionary. Through unwavering dedication and sheer skill, Marvin Dark has achieved an impressive milestone, amassing over 80 million streams and an extensive global fanbase as an independent artist. His extraordinary talent has not gone unnoticed, as he has earned recognition from esteemed artists such as Kehlani, Eric Bellinger, and Ari Lennox. Possessing an unshakable confidence and a relentless determination, Marvin continually breaks through boundaries and surmounts obstacles on his path to success. With his sights set on a flourishing career, Marvin Dark remains committed to crafting timeless, classic music that will resonate for years to come. Marvin Dark is the singer and songwriter of 'Picture This'. A song that went viral several years ago.
Marvin, you've had an incredible journey over the past decade. Can you take us back to the beginning and share some of the key moments that shaped your career in music

?



Marvin Dark: 1. It all started out with my mother's love for R&B music and my passion for expressing my emotions. I would sing and dance for fun as a young child. Over those years, seeing what I can do made people smile, really inspired me to refine my artistry and make this music.
"Up In Smoke" is your latest album. Could you tell us about the inspiration behind the album's title and what it represents in your musical journey?
Marvin Dark: Finding inspiration is a really hard task for me. I can try to go out and look for things to inspire me but my best ideas happen when inspiration finds me. I titled my album "Up In Smoke" because of how it defined how I felt at that time of my life. After the fire and destruction, you're left with smoke. Once it clears, you're allowed to rebuild.
With over 80 million streams as an independent artist, you've clearly built a dedicated fanbase. How do you think you've been able to connect with your audience on such a deep level?
Marvin Dark: Not conforming to any boundary has been a bittersweet journey for me. I attempt to remain original and as honest, I can be within my music. I believe it translates well with my listeners because though I feel the love and appreciate the support, I ultimately make my music as an outlet for how I feel. When it's real it's easier for you to love.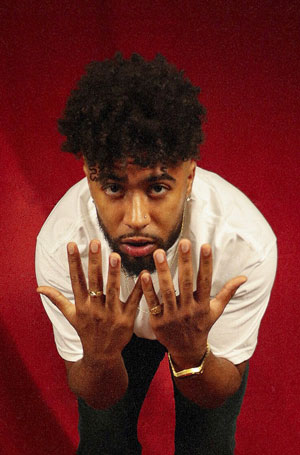 Your talent has earned recognition from artists like Kehlani, Eric Bellinger, and Ari Lennox. How have these interactions influenced your artistic growth

?



Marvin Dark: Any recognition from people over the years always feels so motivating. I gain a sense of confidence when my music gets heard by artists that I have been inspired by. The feeling definitely helps me feel like I am doing something right.
Your music is often praised for its storytelling. Could you share some insights into your songwriting process and how you create such vivid narratives in your songs?
Marvin Dark: I tend to write spontaneously. I've found it difficult to plan to write because my music is so true to what I'm feeling at the time. It can get intense. So when I'm feeling something, I have to get it off of my chest. I hear a beat and write in a way that allows me to say what I want and it helps.
"Picture This" was a viral hit for you. What was it about that song that you think resonated with so many people, and how did it impact your career?

Marvin Dark: "Picture This" has a special place in my heart. I truly feel that at the time, my sound was different. I think an idea of what sets artists apart is their personal style and background vocals and adlibs. I went crazy as an 18 year old on that song. It was from that moment on, that others saw a star in me.
Let's dive into "Up In Smoke." Can you walk us through the album's overall theme or concept and what you aimed to convey through its 15 tracks?

Marvin Dark: This is a time capsule of the last five years of my live. I've been through a great deal of highs and lows. I began writing songs every time I would be feeling down, with no intention of creating an album. Over several months I had these songs and they all flowed so well together that I decided to be vulnerable and release the music. A journey through finding love and falling out of it. After the fire and destruction, all you're left with is smoke and fresh start.
The production of "Up In Smoke" is said to be exceptional. Could you tell us about your collaboration with producer(s) on this project and how you brought your creative vision to life?
Marvin Dark: I was fortunate enough to develop a relationship with such a talented and humble producer from across the world, Danny V. He brings an element of realness I haven't felt from another producer in such a long time.
Are there any particular tracks on the album that hold a special place in your heart? Could you share the stories behind a couple of them?

Marvin Dark: "Forbidden Fruit" is a really good song. I tapped into a version of myself I don't think anybody has heard from me before. I wanted to push myself lyrically and vocally to really show a more open side if me.
As an artist, you've been described as a trendsetter and visionary. How do you see your music evolving and pushing boundaries within the R&B/Soul genre?
Marvin Dark: The more I study music from the past, the origins, and stories – the more I will evolve. I believe my brain works in grouped years and it's like a light switch when the change happens. It's hard to tell what direction I could go with my music but either way, the music I make will be true to me. Always. Learning more about myself will unlock different inspirations in life and allow me to see things differently.
Over the years, how has your perspective on success and the music industry changed, especially as an independent artist?
Marvin Dark: My version of success is feeling like you haven't run out of ideas. If you don't run out of ideas, that means there's more opportunity. Opportunities that could lead to beautiful things and life changes. Being inspired is success. It's easy for me not to feel connected to others based on our versions of success and what it takes to become successful. So manly people have different meanings and makes people do some many different things. A big lesson in the music industry that I've learned in no one thinks the same, sometimes as a benefit but often times at a cost.
Can you share any memorable experiences or challenges you faced while working on "Up In Smoke"? How did you overcome them?

Marvin Dark: Getting to the studio on time! It's embarrassing to say but I cannot get to the studio on time to save my life. Being able to create this album with my friend and audio engineer, ShaggyOnThaBoardz was priceless experience. We work so well together. His amount of belief in this album is a feeling I wouldn't forget.
What do you hope listeners will take away from "Up In Smoke" after experiencing the album in its entirety?



Marvin Dark: Listening to this album let's me forget I made it. I am able to hear it from start to finish and still feel moved. This album for me, shows that I'm not alone with how I feel. The really low lows, and real high highs portrayed in the album really encompass how I feel (I might sound crazy now). I wanted a take away to be that it's okay to go through all of this and that it's good to talk about it and feel all the things.
In addition to your music, you're known for your fashion and style. How do you think your personal style complements your musical identity?
Marvin Dark: My outfits definitely represent what I'm feeling at the time. So it for sure follows the same idea as when I write my music. I like to tell stories through the clothes I wear.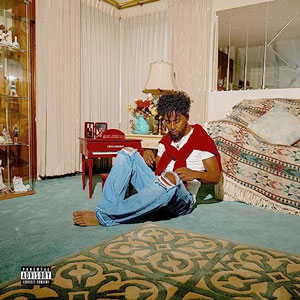 Are there any artists, past or present, who have had a significant influence on your music and artistic approach?
Marvin Dark: The artists I grew up on are my core inspirations. Michael Jackson, Musiq Soulchild, D'Angelo, Beyoncé, 112, Usher and so many more artists that had their own unique version of music. I tend to listen to a lot of older music though I've always been a fan of SZA, Frank Ocean, Kehlani and Justin Bieber.
Looking ahead, what are your aspirations for the future of your music career? Any dream collaborations or milestones you're aiming for?

Marvin Dark: Being able to create more and more music is my goal. To work with really dope artists and to learn everything there is to know about what I do and how to push it forward. In the world in my head, Frank Ocean and I have an unreleased album. Let's manifest something here!! Haha.
The music industry is constantly evolving, especially with digital platforms and streaming. How do you navigate the challenges and opportunities that come with this landscape?
Marvin Dark: I continue to learn and see what works and doesn't work. I am always open to advice and try as many things I can. Forever a student of the game.
Are there any specific musical genres or styles you haven't explored yet but would like to experiment with in the future?
Marvin Dark: A portion of my family grew up on rock music. I was introduced to bands like Rush and The Foo Fighters and have always found a connection within the music. If given the opportunity in the future, I'd be open to exploring that side of myself and seeing what type of music I could create.
How important is authenticity and staying true to yourself in the music industry?
Marvin Dark: Being authentic is a hard thing to accomplish. There are so many distractions. So I empathize with people. I think the real importance is at least the desire to be authentic and true. Effort means a lot, and the world is full of so many things. If the goal is to be true then I think that's a good starting direction to success.
Finally, what message or emotion do you hope your music leaves with your fans, and how do you want to be remembered as an artist when it's all said and done?
Marvin Dark: 2My message of vulnerability is what I hope stands. I want people to know that it's okay to have feelings and express them. It doesn't matter if no one is paying attention. Feel what you feel and don't be afraid of it. Beautiful things can happen when you accept some shit in life for what they are.
OFFICIAL LINKS:
https://www.instagram.com/marvindarkmusic/channel/
https://open.spotify.com/artist/52pRSMo0NAUvqFzScMm8Iz
https://m.soundcloud.com/marvindark