Sarantos: "The Silence Doesn't Bother Me" – A mix of rock with layered electronica
Posted March 12, 2016 by Peter Burns in
Headlines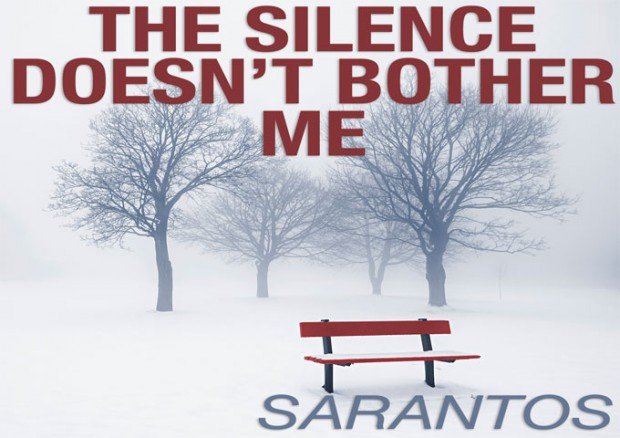 "The Silence Doesn't Bother Me," is latest the song by Chicago independent pop and rock artist Sarantos. "This is a song about silence," says Sarantos. "My initial intention when I wrote the lyrics was to think about my 1st live performance. I was of course very nervous. The song taps into that but then also reaffirms that eventually he decides that even if the crowd hates him and doesn't clap or cheer, the silence won't bother him. He will finally be free because he no longer cares what they think. The rules are gone as he finally lets his true colors show. He has been waiting for this moment all his life. His music will play regardless of what they say! Of course there are several hidden meanings to the lyrics as they can also be applied to any art form and even interpreted as a once famous artist who no longer can get back on top and is left alone in silence."
Multi-talented Sarantos has again somehow found a way to condense a thunder storm into musical form. His latest track is bursting with energy. A mix of rock with layered electronica and a catchy chorus hook makes "The Silence Doesn't Bother Me," absolutely earthshaking.  This is high-octane, heart-pounding music at its best. If this doesn't get you amped, you are probably listening to the wrong genre. Indifference or silence is a highly unlikely reaction to this song, as far as I'm concerned.
Having excitedly followed Sarantos' musical career for a while now, I have been waiting for this kind of musical release from him, seeing as he has just about done it all already. This is beyond what I expected.  The variety in the song structure, the use of synths, the processed guitar sound, and throbbing programmed drum beat all come together to produce something that doesn't skimp on anything.
Then Sarantos adds clean vocals, catchy harmonies, and uplifting handclap to complete the sonic hypnotics. Once the track progresses, you'll start to understand: This is an amalgamation of all the styles of music the man in charge (Sarantos) enjoys.
I will admit, I am biased, as Sarantos is now one of my favorite independent musicians of all time. Regardless of whether I love, like or dislike any of his music releases. Sarantos' qualities go way beyond just producing songs – composing, playing or singing; he is totally committed to the whole independent music process. That means over and above the production work, this guy perfectly manages the distribution, marketing and promotion issues which bug just about every indie artist. And he gets it right!
During the last five years I have never come across and independent artist that pays so much attention to the promotion and communication of his work. This is the closest I have seen anybody coming to the major labels, in terms of professional application outside of the creative process.
Most indie artists are only concerned about recording good music, but my long term experience within this industry – in both the major and independent sectors confirms – that the music by itself, does not even get you half way to where you need to be to create a successful career. So hats off to Sarantos, once again, for a job very well done!
33% of any music-related sales profits from this song are going straight to the National Ovarian Cancer Coalition. Their mission is to save lives by fighting tirelessly to prevent and cure ovarian cancer, and to improve the quality of life for survivors.
OFFICIAL LINKS: Sarantos Website – Facebook – Twitter – Google+ – YouTube – iTunes – Vimeo – Reverbnation – Soundcloud