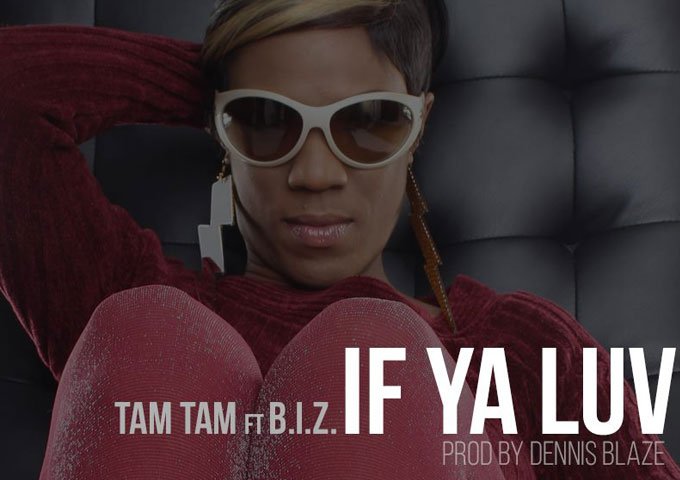 Tam Tam A.K.A Hot Tamala is no newcomer to the hiphop world. Emerging straight out of Alabama, a state seemingly unheard of by the music industry, where pure talent has always been overlooked. In many ways Tam Tam has risen above this industry superficiality in many ways.
Tam Tam has always had a passion for writing short stories and poetry and was academically inclined. She took an interest in music after viewing a video on Kriss Kross. She fell in love with the rap duo and wanted to meet them just like every other young girl in America. Her inspiration came from artists like TLC, DA Brat, SALT-N-PEPPA, MC Lyte and Queen Latifah.
Tam Tam has worked with artist from Dirty Boyz, Gucci Mane, Black Magic Young Sneed, B.I.Z, 6 Tre G, Sir Charles and Keith Murray to name a few. She has been nominated for many awards, as well as opened and performed with countless mainstream artists. Her most recent single release "If You Luv" feat B.I.Z and produced by Dennis Blaze, is gaining momentum on both digital and FM monitored radio stations. The single is available globally on the digital market via Thowed Off Entertainment.
"If You Luv" feat B.I.Z is all-round superb, combining Tam Tam's chilled sensitive style with her aggressive and authoritative style. Her collaboration with the Dennis Blaze has given her the ability to stand tall on both street and commercial level. Few artists can claim to have harnessed both markets, while Tam Tam is consistently working her way towards that goal.
The new track is a bouncy, bass-driven rhythmic serving of funky rap infused with soul and old school hiphop. Tam Tam features guest B.I.Z who does a great job of keeping the flow moving along fiercely. However, have no doubt that Tam Tam can hold it down all by herself.
Tam Tam proves that she can be likeable on any front. She's stylish, she can make it in the commercial realm and above all, she is quite possibly the best female rap artist on the scene right now. Confidence is clear as always in Tam Tam's voice and she speaks the truth.
Besides "If You Luv" feat B.I.Z, I have listened to a few other tracks by Tam Tam, and she hasn't come out with anything that has been sub-par, since she first started. She also develops more and more lyrical skill with every release. Throughout her tracks, Tam Tam shows the many facets of her musical influences, but never drifts from her own rap originality. She is at the top of her game.
Tam Tam is reppin' for the strong, smart and stylish female. Graced with sharp lyrics and a solid beat, "If You Luv" feat B.I.Z allows the Alabama rapper's magnetic personality and considerable emcee skills to shine!

Tam Tam – IF YA LUV (Audio) ft. B.I.Z di Vydia
Artist Social Links:
Tam
http://www.yagirltam.blogspot.com/
http://www.tamtamofficial.com/
http://www.youtube.com/tamtamofficial
http://www.facebook.com/pages/TAM-TAM/182337668445038
https://soundcloud.com/tamtamofficial
B.I.Z
https://only1biz.bandcamp.com
https://twitter.com/only1biz
https://instagram.com/only1biz
https://facebook.com/only1biz
http://m.lafango.com/epk/only1biz