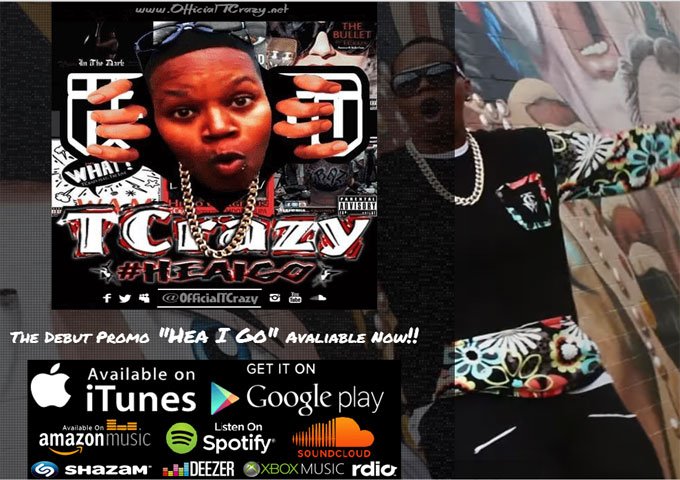 TCrazy is the moniker of Tiffany Rene' Lewis, an Ohio native performer whose swagger, flow, and her ability to attract fans of all ages and genders is what is continuing to craft her into an industry professional. Her influences go from classic hip-hop to alternative metal, jazz, RnB, and even country, while she is most inspired by Lisa 'Left-Eye' Lopes. In addition to an increasingly busy performance schedule and a growing musical career, TCrazy maintains a music production company, a clothing line, and a design company.
TCrazy is not just a rapper, she is a wise person and a poet and that is on full display on "Hea I Go" (Promo EP). This EP is not just about the beats it is a lyrical recording. It is deep. The EP is real; it is TCrazy is at her best. It is great to see a talent like hers shine here, and she really does shine!
 "Hea I Go" (Promo EP) is a bold statement of confidence; it seems as if she felt she had something to prove to this male-dominated industry. And without a doubt she achieves her goal with flying colors. She comes out of her shell from track one, with "Hea I Go", an aggressive self-proclamation with no modesty that will scare the shit out of her male counterparts.
Then she even comes harder on "W.A.M. (Wait A Minute)" ft. Trè Live, with machine-gun flow and rhyme scheme that would stop Tech N9ne in his tracks. Her message is clear she tells everyone to not live their lives under someone's policy, rules, or obligations. This is your life. You determine your destiny. Something she is clearly doing, artistically.
It is quite obvious that TCrazy doesn't care about sucking up to the masses all she cares about is creativity and making good music.  "Hear Me Nice 'N' Clear" is a pure example that the music industry does not appreciate creativity any longer, all they want to promote is candy coated tunes otherwise an artist of TCrazy's caliber would be signed to a major label already.
Being the unique and eccentric street-poet-driven rap vocalist that she is, TCrazy doesn't need to follow the traditional pattern of rapping that most female rap vocalists take. She uses her own words and establishes her own tone, setting, and path. Listening to this EP will take a person of open-mindedness to fully appreciate her artistic expression.
Listen beyond the explicit language and you will uncover some lyrical gems. All songs on this EP require that you have to pay attention to all the lyrics. A lot of people don't do this, getting caught up in only the cursing and cussing, but they really need to, because TCrazy is totally on another level.
The beats kind of remind me of the late 90s and early 2000s, and matched with TCrazy's great lyrical skills and strong personal charisma on the microphone, make this a superb recording. You will find nuggets of this artist's wisdom buried in each of these tracks, so if you really want to know TCrazy, you need to carefully listen to "Hea I Go" (Promo EP).
OFFICIAL LINKS: ITUNES – GOOGLEMUSIC – FACEBOOK – TWITTER – INSTAGRAM – YOUTUBE