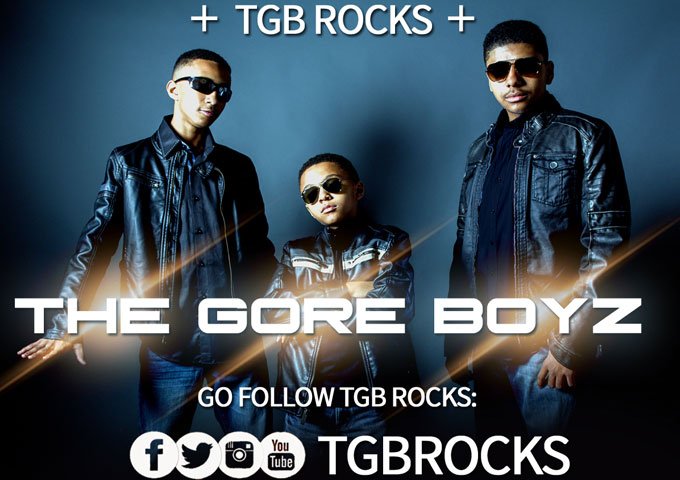 The Gore Boyz have spent the past week in the recording studio with Grammy Award winning songwriter, producer and composer Theron Feemster aka Neff-U. The boys took to their Instagram to share the experience with fans. They're working on an untitled single that was written and produced by Theron and his team, and features Los Angeles songwriter and vocal producer, Mischke Butler, (Michael Jackson, Britney Spears, Gwen Stefani, and B2K) as well as vocalist and songwriter, Gabrielle "Goldie" Nowee. (Chris Brown, David Guetta, Christina Aguilera, and Busta Rhymes).
It was in Theron Feemster's dorm at Boston's Berklee College of Music where he created the musical composition that found its way into the hands of none other than Will Smith which ended up being the theme for Men In Black II. He soon found his way to LA and under the mentorship of Dr. Dre and Michael Jackson. Since then, he has signed a publishing deal with Universal Publishing and has worked with major artists such as Justin Bieber, David Guetta, Eminem, Ne-Yo, 50 Cent, Mary J. Blige, Jamie Foxx, Train, ZZ Ward, and Fantasia.
As for The Gore Boyz, they are from Gastonia, North Carolina. they started performing in 2009 when the oldest brother, Herman, begged his parents to allow him and his two younger brothers to be in their 2009 talent show at their school. After that, Herman, Edwin and Sean Michael formed the musical trio The Gore Boyz (aka TGB) and have set out to make their mark in music. All three boys are enrolled in music lessons; 16-year-old Herman takes on the ivory with the keyboards/piano, Edwin at 13 plays guitar, and Sean Michael, who is only 11-years-old, takes care of the drums.
They have spent the last six years in intense talent development following the Berry Gordy Motown model. They are influenced by old school R&B bands and the trendy new sounds of pop, R&B, and hip-hop. These incredibly talented brothers are not only gifted musicians and entertainers; they are also honor students, community servants and accomplished athletes.
For more information, check out Theron Feemster and The Gore Boys out online.