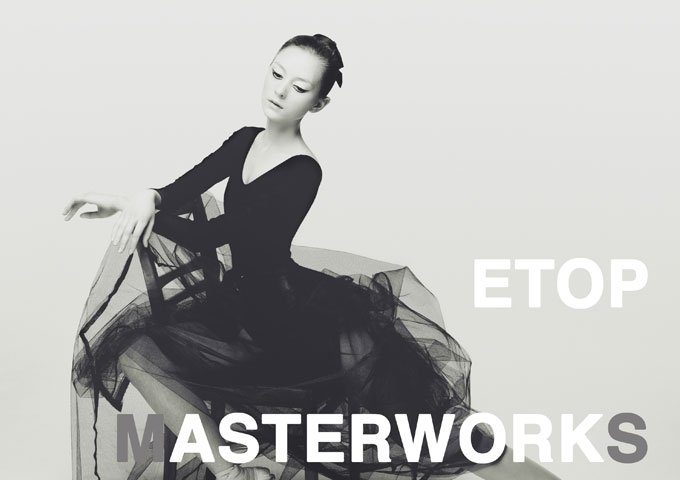 Etop is not your typical electronic artist. If someone says to you that Etop plays electronic music do not go thinking that he plays heavy beats and dance songs. Well he does, but not quite the way you're thinking. Etop is everywhere. He can go to a bubblegum electronic pop tune, to a groovy dance song, all the way over to a depressing ballad. And then he can do something better than just about anyone else…go back in time. No, this is not another installment of Return To The Future. He really goes back to the past, and out of the crate drags a ton of retro flavors and grooves. Often Etop returns to the kitsch 70's and infuses it with the most exotic tones and melancholy moods. But here he does more…
On his latest album, "Masterworks", Etop slides back a decade from his usual itinerary and takes us through some vintage rock and blues, as well as rhythm and soul textures, ranging from the 60' through to the 80's. Although he does this, the album flows together very well and even though there are a lot of different styles and moods here, Etop still keeps this album accessible. He throws in so many different grooves, moods, and rhythms so that no two songs sound the same.
"Masterworks" is unlike any other electronic album out there, Etop is constantly keeping things fun, interesting, and above all, authentic. There are two main influences that this album has, there are the softer, beautiful melancholy tracks, and the more rhythmically driven tracks. Of course there's also the added fascination of tracks such as "Manami In Twilight" ft. Juri ify Love and "Tomoko and the Star Dust" which seem to have decided bent towards Japanese J-pop anime music. And then there's the reggae influenced "Control Tower" to throw a spanner in the works. Etop also explains that the album's opening track, "Blue Collar", is intended to pay homage to vintage blues-rock artists, such as Booker T and Canned Heat. And it does so in splendid style.
Booker T was totally groundbreaking in his time. His band comprised of two black members and two white members, and that was long before Martin Luther King, Jr. lead the March on Washington. In his music you can hear those amazing rhythms that black drummer Al Jackson and white bassist Lewie Steinberg concoct together. Then Booker T. on keys, and lead guitarist Steve Cropper, played off of each other in the most amazing ways. Etop recreates that same vibe and style on this track with aplomb.
From start to finish, on this album, we receive an intense ride full of groove ridden beats, warm old school keys, the occasional vocal interlude, and a wash of soulful guitars. "Orangutan" acts as a slow burning showpiece that successfully blends the blues and that somber mood which is so hard to create electronically. You couldn't really ask for a more beautiful song on this record. Until you come to "The Guggenheim Job" of course, which is another exercise in beauty and restraint.
One of my favorite songs on this album has to be "Live Love Repeat". It's no secret that Etop is a real guru when it comes to the slower tunes, and here he infuses this track with emotionally stirring layers of beautiful horns, reeds, piano and guitar. It's definitely a contender, alongside the bluesy electric-guitar driven "M.I.T. Instrumental" and the organically atmospheric "Orangutan" as the most outstanding track on the album.
Etop has gone out of his way to make an electronic album that is ground-breaking and innovative with "Masterworks", and at the same time he has pieced together a record that boasts 13 stunning, inspiring and emotive tracks that sit confidently within the genre's expansive repertoire, but spills over its boundaries too. His skills lend well to any style but he is especially proficient on slower emotional grooves, and those skills play a prominent role within the soulful and engaging framework of "Masterworks".
MORE ABOUT: Etop's family immigrated to the United States during 1986, from South America and West Africa, settling in Brooklyn. Etop would find joy and entertainment in hearing songs on records during his youth. Later on in life, Etop received an associate degree in architecture, while studying at New York City's Technical College. This allowed Etop to receive his Bachelor of Arts in architecture at the Pratt Institute of Arts and Design. Even though Etop was on the path to architectural design, music production has always been his calling.
 OFFICIAL LINKS: WEBSITE – ITUNES – BANDCAMP – FACEBOOK – TWITTER