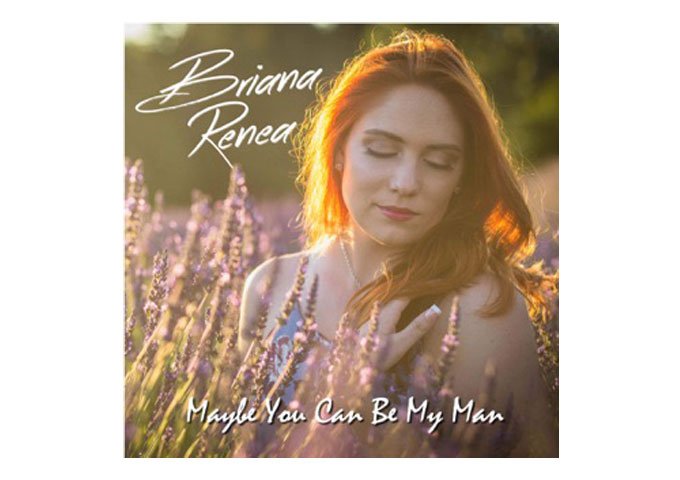 Briana Renea Releases Her New Single and puts her heart on the line while singing about what it takes to be her man.
It has become rather customary for her devoted fans to witness Briana Renea in her most fierce and passionate state dancing across the stage with the dynamite energy of dirt roads and electric guitars.  Briana's high-energy, hard hitting vocals are complemented by that striking red-hair 'do and a boisterous attitude to match. Her latest country tune, "Maybe You Can Be My Man" set to be released Friday, August 30, 2019, is notable for how she chooses to let her hair down, wearing her heart on her sleeve and deciding to delve into what it takes to be her man.
A cheery, sun-splashed summer girl-next-door groove welcomes the track – Briana speaking to a potential suiter and whether he wants to see her again–amidst a delicious mash of soft guitar chords and bouncy triangle chirps. But as she begins to issue her ultimatums, the guitar is amplified, the rock flavors reveal themselves and Briana asserts her well-meaning conditions for the relationship.
Briana has extensively discussed the struggles of her dating life with her co-writer Steve Mitchell, and how this track is rooted in the uncertainty but the hopefulness that is accompanied by a new relationship, especially when the person in question is a country singer-songwriter from Canby, Oregon, completing degrees by day, performing on stage by night. But Briana's songwriting choices are distinct in their own right: she doesn't just bring her usual sass and fire, with encouragement from Nashville producer Jason Wyatt, she stretches out those vocal cords in the chorus and puts herself at the forefront of her story.
"Sometimes I wanna talk a river, other times I need to be alone"; here Briana is asserting and owning up to all the wondrous, fascinating parts that make her who she is, and that is perhaps the level of assurance she seeks from her "Man". The extended guitar solo at the bridge just demonstrates how Renea is willing to dabble in a variety of sounds and genres as long as they bolster the outstanding feel of the song. She throws down her voice in its full ferocity, however complex and challenging it may seem to her potential partner and reveals that there lie layers upon layers underneath her persona.
About
Briana Renea comes by her country roots naturally.  The 25-year-old hails from Canby, Oregon in the heart of the Pacific Northwest. Throughout her childhood she showed Horses, Cattle and Goats and is still competitively showing in the American Stock Horse Association where she was the 2017 Non Pro National Champion.
Her song, "Dirt Side" talks about her country roots growing up playing in the dirt and living on a farm while showing horses, cattle and goats; the track earned a Top 12 Best of NSAI Spring Training Award.  Her single titled "Widow Maker," a tune about bull riding, was featured in the Northwest Pro Rodeo Association finals advertising. Her single, "Chasin' Trouble" was placed in the Top 40 for the Nashville Songwriters Association International's (NSAI) second quarter of 2016.
Her debut single released last fall, "Chasin Trouble" hit the top 100 on the Music Row Country Breakout Charts.
In 2018 her EP "Chasin Trouble" was nominated by the International Music and Entertainment Association (IMEA) for Country album of the year. In addition, the IMEA recognized Briana's talents with its "Country Female Artist Of The Year" award (2018). She is set to release a deluxe version of the "Chasin Trouble" EP September 20th which will include, Maybe You Can Be My Man, Tombstone, and Trust the Fall as bonus tracks.
Her musical style was greatly influenced by her childhood growing up on 80s rock and 90s country.  Briana blends the two genres in her own musical compositions and live performances. Since launching her touring career (2013), Briana has become a must-see, fan favorite at fairs, festivals and venues throughout the Northwest where she's shared the stage with notable country recording artists such as Joe Nichols, Old Dominion, Canaan Smith, Love and Theft, Diamond Rio, Sammy Kershaw, The Cadillac Three, Jackson Michaelson and The Gatlin Brothers.
Connect with Briana Renea:
Follow Briana Renea on Instagram, Facebook, YouTube, and Twitter
Visit: www.BrianaRenea.com