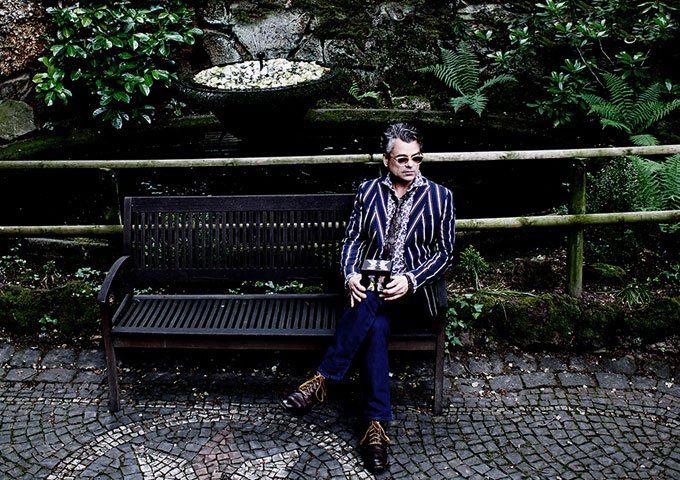 Born and raised in southern Oklahoma, William Ben Brooks may sound like a new name to the uninitiated, but the soulful singer-songwriter is already deep into his growing catalog of Americana-soaked, folk-rock and blues-based anthems. Further proof of his prominence as a reputable craftsman, can be gauged by the company Brooks keeps. His latest album "A Broken Beast", features a powerful line-up of Grammy and Emmy winning players: Catherine Russell (David Bowie and Steely Dan), Ms. Nicki Richards (currently backing Madonna) and Janie Burnett (Linda Ronstadt, Rickie Lee Jones), multi-Emmy winner, Robbie Kondor (Eric Clapton, Aretha Franklin, Billy Joel) and Grammy nominee Kelvin Wooten (Al Green, Macy Gray) on keyboards and Jon Gordon (Suzanne Vega and Madonna) on guitars, and bass. Clearly this is an important record. Not just for a William Ben Brooks, or for his hard core fans to have, but for any fan of genuine music.
Skilled at mixing the story with the music, Brooks' songwriting and lyrics are impeccable, and this album aptly illustrates his immense abilities. Furthermore, he seems to be able to do anything he wants with his voice. Anyone that's ever had their heart completely ripped out, and live in the hope of having it fixed, will relate to this album.
Brooks has a gritty sense of love, loss, and heartache in his writing. Striking the perfect balance between the mastery of his vocal cords and the ability to bring you to your knees with a turn of phrase, the 14 tracks on this album demand to be replayed and savored. Put "A Broken Beast" on, and let it play through.
It's an affecting experience; William Ben Brooks is profound and articulate, bearing his soul in hauntingly poignant admissions of sorrow, and sometimes hope. Brooks can go from the gently eloquent, and acoustically dominated intro of "Blindside", to the raucous storm of crunchy guitars, and fast beating drums, on "Too Soon".
He can switch from the intensely burning six-string driven groove of "Remedy", to the piano balladry of "The Beauty Of It All". Brooks' varied performance palette stands as one of the most authentic and heartfelt communiques from any singer-songwriter I have laid ears on this year. And it doesn't stop there either.
There is the sincere manifestation of a chillingly comparable reality in "In This Room", co-written with multi-talented artist, and best-selling author, Julia Cameron of "The Artist's Way" fame. Not to mention the fiery groove ignited on "It Is What it Is", or the simple and effective picked acoustic and gorgeous electric guitar solo on "Too Many Fields".
Of course the opening track, "And I Heard", is what initially convinced me of William Ben Brooks' credentials as a songwriter and performer. Brooks' voice is pushed to the front of the mix, leaving no doubt of his abilities as a singer, and as a craftsman of a great melody. Every album deserves to start this way.
"A Broken Beast" is remarkably consistent without being 'samey', and a listen from beginning to end takes one through the entire emotional spectrum. The best part about being a William Ben Brooks fan is that there's really something for everyone – from heartfelt ballads, to hell-raising rockers, and just about everything else in-between. This is that rare-natured album that will strike a chord with fans and critics alike.
OFFICIAL LINKS: WEBSITE – AMAZON – APPLE MUSIC – GOOGLE PLAY – SPOTIFY – YOUTUBE