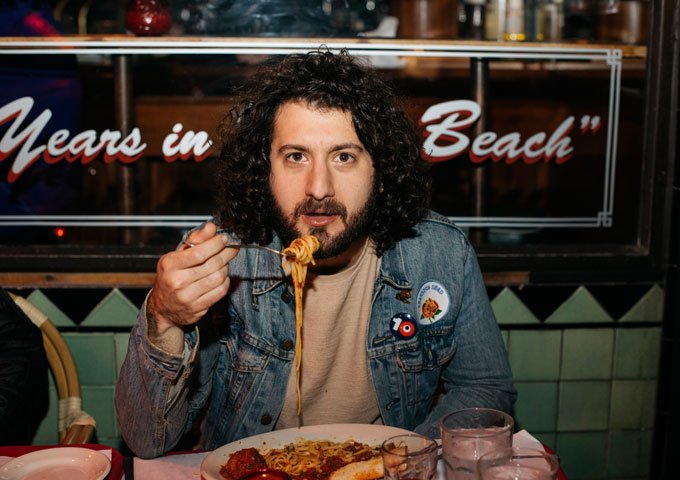 ERIC SILVERMAN RELEASES NEW SONG AND VIDEO FOR
"AS MY COUNTRY DRIFTED AWAY (I GOT STONED)"
FROM HIS DEBUT SOLO EP ROOKIE OUT ON FEBURARY 28
"People talk, they should scream" – Eric Silverman exclaims on the song and video for as "As My Country Drifted Away (I Got Stoned)" from his sharply infectious debut solo EP Rookie out on February 28. See the video here-https://youtu.be/Q6mFxAA3B9g
When Silverman and Grammy-nominated producer Damien Lewis went into the studio they were looking to explore a feeling and sound for a later project but emerged a week later with a record that establishes Silverman's voice as a solo artist. With robust arrangements, sardonic lyrics, and experimental production techniques Rookie sets the bar higher in terms of sound design and melodic writing. "The release features 5 songs, with each track showcasing a different idea and creative skill for this talented artist. The songs are refreshingly back-to-basics, yet so rich and easy to relate to in terms of production, songwriting, and performance"– Band Camp Diaries.
Silverman and producer Lewis met while working on San Francisco darling pop-rock band, HEARTWATCH, where he made a name for himself as their driving force and bandleader. Craving a new musical path Silverman is branching out on Rookie for a return to deeper songwriting and a chance to write music that really speaks to people at this troubling time in our world. "Stepping into a new musical path, musician Eric Silverman makes his return to writing deeper songs that speak to people with his infectious debut solo EP…while providing a solace for music fans everywhere"– Music Trails.
The songs on Rookie journey through melodic navigations with honest emotion. "Lyrically, I'm really influenced by Lou Reed and Jeff Tweedy. A lot of this process was finding my voice and figuring out who I am as a songwriter. The feeling was really present while I was writing 'Rookie'. It was all about the nervousness of doing something on my own. It was like my Rookie year: I was willing to take chances but wanting to prove myself a bit. It was about being older and looking back on where you've come from" explains Silverman.
"What I really like about the sound on this album is just how intimate it is. It's a nice blend of folk and indie rock with a touch of The Velvet Underground. Within these five songs showcases unique creativity from this gifted artist" – El Burrito Blog.
Follow Eric Silverman at @songsfromericsilverman