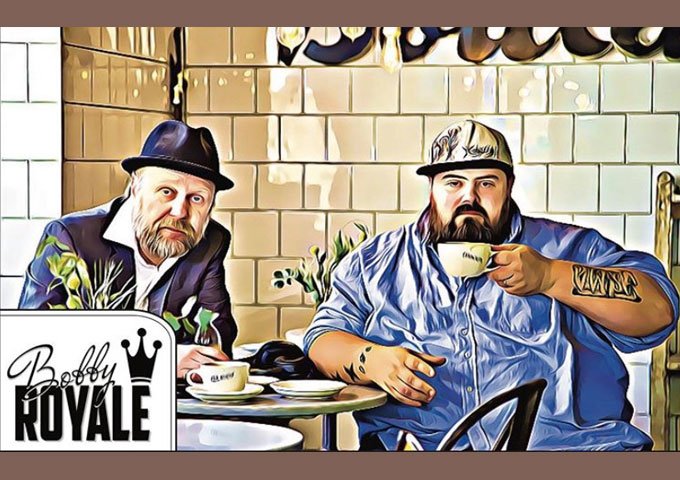 Some see hip-hop and jazz as an unholy alliance, maybe even the vulgarization of jazz. But other musicians see the genre-melding as a positive development. Every so often, in some corner of the globe in fact, you'll find a handful of jazz musicians experimenting with jazz and hip-hop hybrids. In some ways the musical connection would seem inevitable. After all, early gospel, blues and jazz employed call-and-response cadences dealing with the same themes prevalent in hip-hop today. For some, though, the similarities end there. Straight ahead jazz musicians who have had their music sampled appreciate their work being exposed to a new audience, but they often have a hard time actually understanding the music, or for that matter, even calling it music. Not so for the collective who go by the name of Bobby Royale.
Made up of Gurra G, Isac Parker, Björn "Skiss" Edqvist, and Thomas Blindberg, each member of the four-piece group has over 30 years of experience performing and recording. The idea behind Bobby Royale, explains the group, was to incorporate a 50's sound into their music.
"Seeing that everybody was named Bobby something and was very handsome. So we wanted to be named Bobby something and be very handsome too." So in a way Bobby Royale doesn't just take Hip-hop back to its roots, but goes way beyond, to before it even existed.
Hence while many hip-hop artists today, are attempting to take the genre into futuristic scenarios stuffed with cutting edge electronics, Bobby Royale take's it back on a nostalgia trip, to let us experience just how the rhymes and flows would sound on top of groovy horns, bubbling basslines, layered harmonies and be-bop rhythms.
In so doing they create a whole new level of crossover. And the notion that hip-hop will somehow taint jazz, or the other way around, is rendered ridiculous, right across their 7 track album, "Live Jazz at Staarsound".
Right from the outset, on the opening song "Raise The Roof", Bobby Royale show how to use jazz, soul, gospel, and hip-hop elements to their advantage and it's a beautiful thing to hear. "Million Dollar Man" ups the rhythm with a vibrant beat, a finger-snapping singalong hook with a swing in its tail, and reverberating brass motifs.
There is an artistic quality in the music that cannot be overlooked. The percussive rap voices, the cooperative horn work, the instrumental solos, and all the mellifluous harmonies that hold these songs together, make Bobby Royale extremely interesting, enjoyable and worthy of further study.
All of which is easier done than said, as Bobby Royale roll out groove- inducing standouts like "Bang Bang Boogie", or the slower, tongue- in-cheek, "Killing You Hardly With My Song". "Remember" is a focused musical exploration with distinct melodies and tones combining into a unified expression of the musical moment. This is for me one of the best tracks of the bunch.
Bobby Royale has an eclectic yet cohesive sound contrasting the luxurious brass tones, sharp lyrical attacks, inventive rhythmic motifs and languid guitar work – all while varying from rapid fire rap lines to melodic counterpoint to instrumental encouragement.
This is again evidenced on "Bare Knuckle Dance Move" and the exuberant "Fever Pitch". The drums propel everything with a steady pulse and layers of compelling rhythms while the horns and vocals take things to a higher level.
"Live Jazz at Staarsound" is a wonderful testament to interaction and improvisation that expands and contracts, grinds and soars. The dialogue between the players, singers and rappers – their melodies, timbre, and pace – is continually shifting as they respond to the individual and collective rhythms and sounds.
New motifs and ideas are found on each listen making it remarkably enticing to keep coming back to investigate the Bobby Royale project further. They are a shining example of the musical alchemy made possible by climbing out of the genre box.
OFFICIAL LINKS: SPOTIFY – YOUTUBE – FACEBOOK – INSTAGRAM