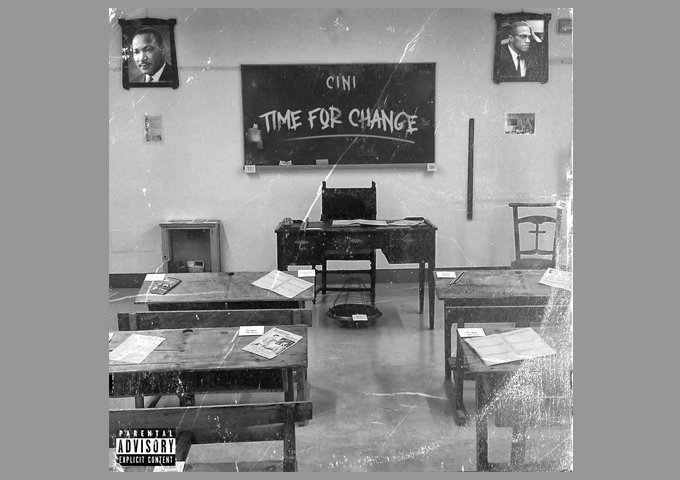 Rap is a genre that thrives on immediacy. Most of the more successful tracks, are the ones that just jump off the shelves at listeners. But once in a while it is nice to hear somebody like Cini, who delivers a lyrically hard-hitting, but musically subtler work of art, with his single "Time for Change" that takes a little more time to grow on you. This is rap that needs to be digested, which is one of the reasons why it stands out in the current hip hop landscape. For all the catchy strengths of today's mainstream artists, I wouldn't mind seeing a few more that are able to craft a track the way Cini does.
Right from the outset, it seems like Cini wanted a record that showed his true lyrical abilities, not just catchy hooks and a jumpy beat. Cini's flow and his rapping is top notch, bringing up easy to understand subjects in a manageable and enjoyable fashion; he is an excellent MC with a positive vision.
As the title suggests, "Time for Change" is concerned with the implications of color, race and the surrounding social implications of inequalities and injustices within society. Its aim is not only to make the voices of the oppressed louder, but to make the oppressed realize that change can only come if they themselves make it happen.
Lyrically, Cini has something important to say throughout the song, using unique rhyming techniques to get his point across. "We're living in a world where being black is a fucking threat. They don't want us with knowledge, so when we come, better come correct," raps Cini, who then later sends another powerful message.
"With that being said, let's get away from the 'gimme, gimme, gimme', cause I promise you in this world you gonna see that it's plenty." The lines aren't overly complex, but say plenty to leave an impression. Cini's gift for bringing lyrics that matter certainly does not falter on this release.
The overall vibe combined with the thought-provoking, and well executed lyrics, make this track more than just a collection of rhymes. The production is also top-tier, creating an atmosphere that coincides perfectly with the narrative. The general population sees rap and hip-hop as a mind-corrupting, negative influence concerned with substance abuse, misogyny and all things hedonistic.
Cini and "Time for Change" are here to show you a different side to the genre. This is a brilliantly executed piece of rap, made for the street philosopher with a proactive view to life. If other rappers put this much thought into their work, the genre would be moving in a whole different direction.
So if you've been looking for some rap and hip-hop that may get you interested in the principles of genre again, or even if you like hip-hop and are looking for something new to cherish, check out "Time for Change". And if you can't find yourself believing in the power of hip-hop again after listening to Cini, I can safely say it's time for you to give up hope that you ever will.