Music Hall of Famer, legendary Motown and Progressive Jazz-Rock Bassist, Composer, and Producer Tony Newton expands the conventions of Jazz-Rock fusion with innovative approaches, providing the genre with endless possibilities for new techniques and alterations. He is one of the few artists currently that fully examines all of the different templates that serve as defining characteristics of Jazz-rock fusion. His latest release, the reworking of part of English composer, Gustav Holst's "The Planets" suite, is nothing less than a masterstroke, as Newton brings the 1914 orchestral arrangement into a completely new musical realm.
Tony Newton's "Mars (Eclipse)" takes its primary cues from Holst's "Mars, The Bringer of War", the first movement in "The Planets", which had its meaning described as "the chaotic energy of youth, the misuse of the will, the desire for revolutionary action." In fact, the piece is instilled with energy, motion and activity. All of which, Newton takes to another level, blending electronic sound design, sampled orchestrations, organic improvisation from virtuoso guitarist Josh Ramos, and keyboardist Kim Hansen, as well as his own innovative bass work.
Tony Newton focuses on elaborate musicianship and extensive improvisational and innovative methods to compose his sound. Though as opulent as his performances may sound, with all of its dexterous grandeur and forward-thinking techniques, Newton never alienates the listener, making sure there is a veil of accessible immediacy to his arrangements. "Mars (Eclipse)" is by all means and purposes, an ambitious project, and as such takes no short cuts towards reaching its goal.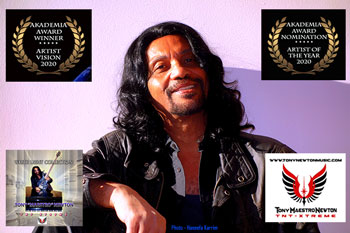 "Mars (Eclipse)" has a much more diverse musical landscape than the original composition, while still sticking closely to that template. Opening with an eerie atmosphere, it evolves into a complex structure of alternating moods, textures and rhythms. The song is almost instantly driven by the eruptive and momentum-inducing nature of Tony Newton's bass guitar, as well as the dynamic sway of the percussion. All throughout Newton leaves the listener mesmerized by every sound that expels from his bass.
"Mars Eclipse" is agile, cosmic, and exquisitely opulent in its performance, and yet, there are no wasted notes here. Every solo and every melodic theme serves a purpose, and that purpose is to be as engaging as possible. You can honestly feel an intimate connection to the music, because regardless of all of its virtuosity, the players are actually choosing to be lucid and appealing. There's no enigma to solve within this song, just pure enjoyment waiting to be experienced, as Tony Newton and crew lay their wares on the line.
I highly recommend "Mars (Eclipse)" to any enthusiast of Jazz-Rock Fusion music, and especially anyone looking to get into Tony Newton. It's a marvelous coalescence of his finest attributes, put into an adventurous and expansive context. As abstract and improvisatory as the genre can be, Newton – a 2020 Akademia Artist of the Year, and 2021 Rising Star – finds a way to make it both accessible and challenging at the same time with this release.
Furthermore, Tony Newton has given added luster to a brilliant piece of work that has defined Gustav Holst. "Mars (Eclipse)" is a really captivating listen, because it has its foot in every territory that music has previously ventured in, providing a really mesmerizing sonic brew for our times. It should also be noted that Newton is working on a full-length, immersive 90-minute film depicting the beginning of the Space Age through contemporary times, and future plans for Mars colonization.
Tony Newton will also be placing his personal handwritten, signed score, along with his 48k high-quality personal audio mix, as a "Music NFT Collectable" into the Crypto music NFT market as one of the new artists to enter this exciting world of music and digital art.
OFFICIAL LINKS:
WEBSITE: https://TonyNewtonMusic.com
FACEBOOK: https://FaceBook.com/TonyNewtonTNTXtreme
YOUTUBE CHANNEL: https://YouTube.com/c/AntonioTonyNewt…
YOUTUBE MARS BBC: https://www.youtube.com/watch?v=cXOan…
STREAMING: https://audius.co/TonyNewtonMusic/mar…
INSTAGRAM: https://Instagram.com/tnewton777
EMAIL:TonyNewtonMusic@gmail.com