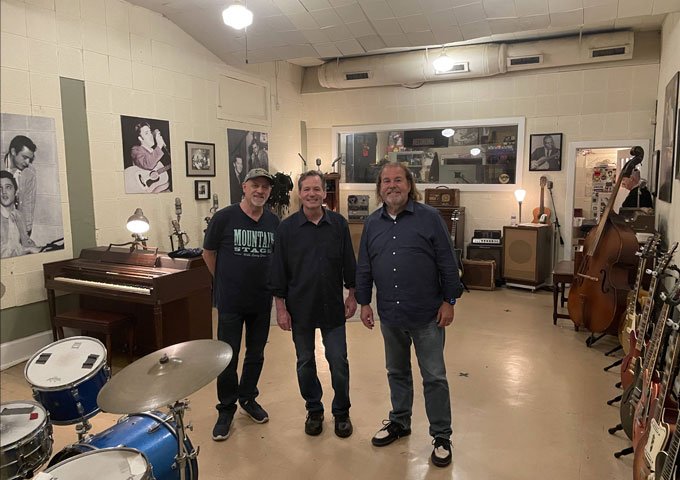 Brian Cottrill of the band Dream Trippers had a lifelong aspiration to record at Sun Studio. "When I was growing up, my parents were always playing Elvis Presley, Johnny Cash, and Jerry Lee Lewis records. I was in awe of how Sam Philips pioneered rock 'n' roll at Sun Studio and Sun Records."
Cottrill's wife, Anita, bought him studio time at Sun Studio as a birthday present. The COVID-19 pandemic derailed the original plan to go in 2020. Finally, in 2023, Dream Trippers drove 11 hours to the Memphis, Tennessee landmark.
Drummer Bob Workman said, "The historic vibes at Sun were powerful. We used the studio's guitars and drums. The drum kit I played was owned by Larry Mullen Jr.  He left it at Sun after U2 recorded songs for Rattle and Hum there."
"We took the studio tour in the afternoon and started recording in the evening. My upright bass was set in the same floor indentation where the bassists for Johnny Cash and Elvis had theirs. We sang through Elvis's and Johnny Cash's microphone," said bassist John Anderson Farmer.
Engineer Daniel Crockett recorded two songs for Dream Trippers at Sun. In the weeks that followed, the band recorded two more songs at home to round out the EP. "I love fifties' rock and rockabilly and I went on a tear of writing songs in that style. It was amazing to record in the shadows of so many legends at Sun," said Cottrill.
Dream Trippers release the four song EP titled The Sound of Sun on August 4 to all streaming platforms.  Physical CDs will be available at www.BrianCottrill.bandcamp.com. A music video about recording at Sun is also out from Aug. 4 on www.DreamTrippers.net. Dream Trippers play live at the Shindy music festival on August 11 in Shinnston, WV.
"Going to Sun was a pilgrimage for us. To record at ground zero of the birth of rock and roll was a total thrill," said Workman.  Others who innovated rock and roll at Sun Studio include Carl Perkins, Roy Orbison, Charlie Rich, Howlin' Wolf, and B.B. King.  "Rocket 88," recorded at Sun by Ike Turner and Jackie Brensten, is often cited as the first rock and roll song.  Others who later recorded at Sun include U2, Matchbox 20, Maroon 5, Def Leppard, John Fogarty, Stray Cats, Beck, Paul Simon, and Tom Petty.
OFFICIAL LINKS:
http://dreamtrippers.net
https://www.facebook.com/briancott
https://www.instagram.com/britune/
https://www.youtube.com/@britune/
https://open.spotify.com/artist/63hYDetlq7NitnymeN14Sc
https://music.apple.com/us/artist/dream-trippers/1661760278
https://briancottrill.bandcamp.com/