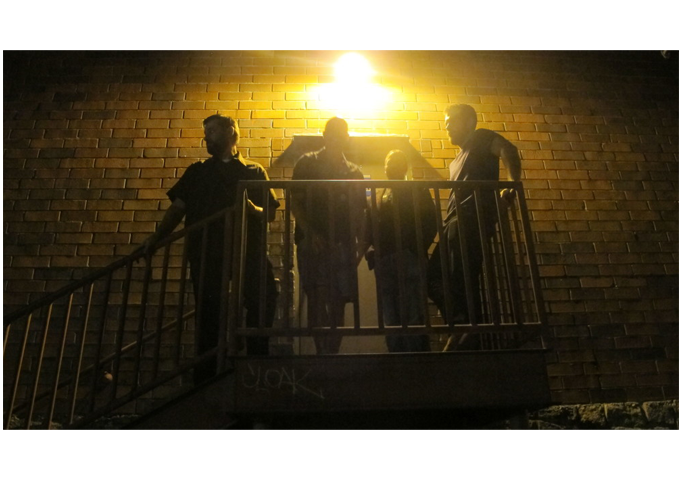 Origin Mile assembled in Spring 2014, when friends Ernest Son (guitar, drums) and Tom Smith (guitar and bass) were just capping off a long period of writing, jamming, and recording.  While composing an acoustic side project, Ernest met and roped in guitarist David French. Soon after, drummer Michael Brady joined the band and the quartet began hashing out the details to their first set.
Origin Mile's songs are laced with jangling guitar-driven rhythms and filled with haunting melodies that leave the listener still enveloped and entranced even after the song has ended. Most bands are directly relatable to ones from the past Origin Mile is not like this at all. It's fresh, new, and amazing as its subtle influences are many great ones.
It's been a long, long time since I came upon an album (in this case a 3-track EP) that surprised me as much as this one. The vocals, the organic instrumentation, the timing, and the flow are all perfect. I think we are witnessing the start of a brilliant career for this band.
Again, many new bands, no matter how great, sound so much like old groups. Origin Mile breaks this tendency. Sure, they fit nicely into the Indie Rock or Indie Pop categories, but they do great things in new ways, and they do it with elegant force and controlled power.
From the minute they kick off with "Anastasia" you sense a curious urgency as the music surges and soars across the infectious guitar rhythms and crystal clear vocals. If I had to choose a 'signature' sound with which to distinguish Origin Mile from other bands, it would have to be their guitar sounds and rhythms, which are totally unique compared to the current synth-driven music.
The only hint or nod to any other band that came before, I perceived on "Not Forever Since September", where the opening 2 bars reminded me of early REM. But that was it, 2 bars! Then Origin Mile stepped on the guitar pedal and it was back to business as usual with an eclectic and sizzling guitar solo.
"Port Authority" crashes in on such a fun, uplifting vibe that you can't help but tap your toes. In fact the rhythm was so infectious; I never even realized that I'd forgotten to listen to the lyrics, while I continued humming along to the melody…even on replay!
This was a truly beautiful and inspiring listen. Origin Mile delivers simple, ear-catching melodies over some deliciously refreshing rhythms; while upfront the vocals are always dominant, expressive and clear. But it's the overall feel of their music that is most impressive.
I'm not sure who engineered or produced the music on this Ep, but it continually felt like the band were playing in the same room I was listening in, and the experience was just awesome; especially the gut-wrenching, resonating guitars on "Not Forever Since September".
In the space of only 3 songs Origin Mile has gone a long way to restoring my faith in current music. Who knows what they could do with a full-length album!
OFFICIAL LINKS:
---