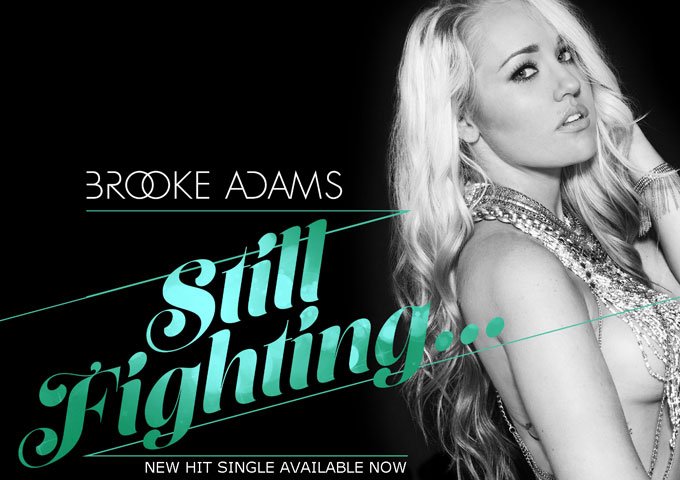 Singing and performing artist, Brooke Adams has announced the release of her much anticipated single, "Still Fighting." Brooke's first single with Dubb Records, "Still Fighting" is a world anthem inspired by several present issues taking place around the world such as poverty, hunger, war and police corruption.
With the release of "Still Fighting", Brooke Adams joins to that small group of contemporary music artists who are so necessary, to navigate times of pretense, caution and despair. This single, which affronts some serious topics, represents the desire for more songs from an authentic voice, with an uncompromising attitude of dissent toward mediocrity and complacency shown among many superficial singing divas.
I think Brooke Adams (and her production team) has managed to successfully combine a beautifully produced modern pop sound while she still performing at a raw, guttural and emotional level on "Still Fighting". Brooke has the incredible gift of expressing and weaving emotion into her music to the point that the song is a core of something far more powerful. Her voice, though sounding trained and controlled, has the ability to be unhinged at the drop of a hat.
This is exactly what happens on "Still Fighting", where Brooke delivers anger tinged with awareness and hope in varying doses. It is an uplifting anthem about understanding and reclaiming ourselves and exorcising our demons. Hearing Brooke sing: "People what are we gonna do, Can we make a change, Together we can stop the pain…" sounds like an impassioned step forward in her singing career.
"Still Fighting", is for me, an absolute high quality release from Brooke Adams; raw, melodic, emotional and well structured, you'll be hard-pressed to hear a more powerful radio-ready single currently doing the rounds. Brooke Adams comes across as compelling, inspired and driven. What else would you desire from a stunningly beautiful and talented female pop-rock star?
MORE ABOUT: A Texas native, Brooke Adams has been singing since the age of three. As a teenager, she moved with her mother to Los Angeles to release a self-titled album with Virgin Records. Her first single reached #28 on Billboard's Hot 100 List. She then went on to sing all four songs on Disney's Cinderella 2. She has been on both USA and UK tours and numerous radio events as well as being on two seasons of Keeping Up With The Kardashians and on Criminal Minds. Now signed with Dubb Records, Brooke is currently busy in the studio working on her upcoming pop/rock solo album.
The new single is now available on iTunes. You can grab "Still Fighting" at http://buff.ly/1G3vt5J