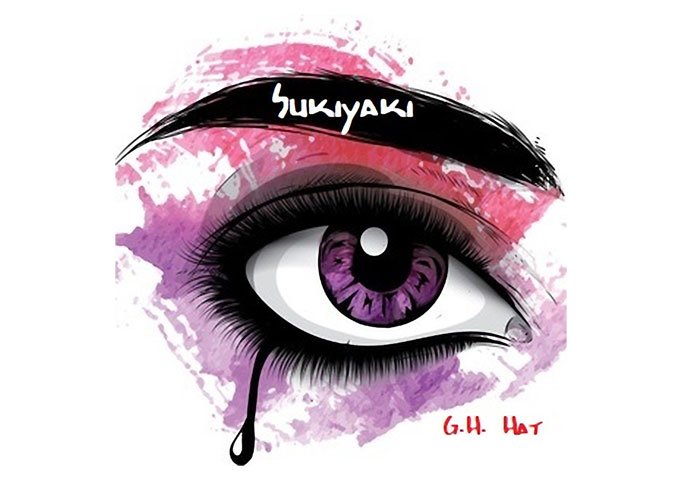 Seldom does chance have it that an electronic music producer is as simultaneously celebrated by both seasoned and novice fans of the genre as G.H. Hat is. The relative newcomer boasted 290 Classical track releases prior to officially starting his EDM career with two Triphop songs which saw him rack up Soundcloud Top 50 Charting, and continuing with many placements on Official Spotify playlists. In 2017, G.H. Hat achieved national Billboard success with "I Got a Problem (I Wonder…) [feat. Mickey Shiloh]. And 2018 has continued to rake in more success with the producer dominating many Spotify playlists and being picked up by radio stations, cable and TV video channels in 45 countries.
This is a period during which G.H. Hat's creative process has evolved into one of the most highly regarded sounds on the market, and with the release of his brand new 3-song EP, "Sukiyaki (feat. Alina Renae)", it's no exaggeration to suggest that this time in music seems to belong to him.
As if the music itself weren't layered enough, G.H. Hat chose the most enigmatic ways imaginable to build up to the track's sonic spectrum. The EP features the original version of the song, followed by the 'Not so Chill Version' and finally a stunning, and unusual Instrumental Version', featuring a fiery electric guitar as lead instrument.
This is not the type of sound you would normally associate with EDM, but G.H. Hat once again shows his courage to break down the barriers on this track. His unwavering dedication to his sound and his utter disregard for any current genre limitations will no doubt earn him unanimous respect during the following years.
My guess is that years from now when the world looks back on this era in music, it's likely that they won't remember many famous more EDM artists as strongly as they'll remember G.H. Hat.
The way he utilizes the benefits of modern production software puts his skill on par with that of a classical composer (which of course he is!). Seeing him at a career high, his fans can only hope that he'll be able to keep the momentum moving forward and continue to put out the caliber of music that serves to define a generation.
However anyone who knows G.H. Hat.'s music, understands that the man is an overachiever. It's this perspective where you can really appreciate "Sukiyaki (feat. Alina Renae)" for the technical and composition marvel that it is.
The song keeps the listener in house heaven until the graceful fade out into the following tune. Epic, swelling pianos and chilling, stratospheric synths developing alongside the wide, perfectly layered melody that encompass the traditional  G.H. Hat formula honestly sound cleaner and crispier than ever here. Simply put, there's house music…and then there's G.H. Hat.
The flawless atmospheric build into the main hook is in the masterclass level of production expertise that G.H. Hat brings, to make every single note of every sound, an emotional connection that mixes with the music to create something truly extraordinary. This is G.H. Hat at his very best, which is something that all electronic fans should experience.
The cherry on top is the melodic resonance that Alina Renae's vocals brings to the track. The song's featured songstress, has had numerous tracks chart on Beatport, including breaking into the Top 10 four different times in three different categories and has been in regular rotation on MTV, Fuse, Sirius XM, Vevo, and more. With several songs having over millions of views on Youtube and plays on Spotify, Alina continues to gain strong media attention from all over the world, making her a perfect match for G.H. Hat.
OFFICIAL LINKS & SOCIAL MEDIA:
Website: http://ghhat.com
Spotify: https://open.spotify.com/artist/4JVfdkh46RFrpEl45u8D9A
Soundcloud: https://soundcloud.com/ghhat
YouTube: https://www.youtube.com/c/GHHatMusic
Twitter: https://twitter.com/G_H_Hat
Facebook: https://www.facebook.com/ghhatmusic/
Instagram: https://www.instagram.com/mrghhat/
Bandpage: http://Bandpage.com/ghhat
Reverbnation: https://www.reverbnation.com/ghhat
Google: https://plus.google.com/+GHHatMusic
Pinterest: https://www.pinterest.com/mrghhat/
Tublr: https://www.tumblr.com/blog/mrghhat
N1M: https://www.numberonemusic.com/ghhat
Bandcamp: https://ghhat.bandcamp.com/
Songkick: https://www.songkick.com/artists/8942719-gh-hat
SonicBids: https://www.sonicbids.com/find-musicians/gh-hat-los-angeles-songwriter/
Itunes: https://itunes.apple.com/us/artist/g-h-hat/id1084900204
Shazam: https://shz.am/a202633555#gh-hat
Amazon: http://bit.ly/ghhatamazon