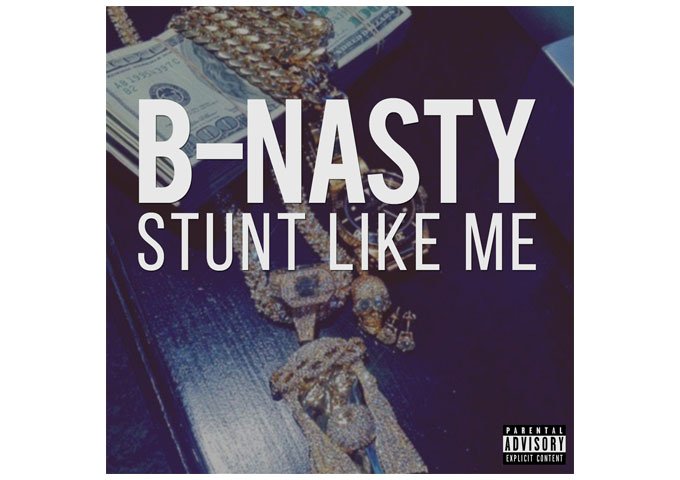 Dough Related Productions rapper, all the way from Perth, B-Nasty, is back with his latest single, "Stunt Like Me". This is the track B-Nasty was put on this planet to make, but never had a sufficient enough state of alarm in the world to draw inspiration from, and truly focus the menagerie of his mind upon. It's the most topically cohesive, palatable and headily conscious he's ever been for an entire three minutes and thirty seconds. Having a unified base of production and engineering from a single visionary makes it all work together in perfect, coalescing, high-tech harmony.
I doubt anybody else raps like this in Australia and if anybody else ever will. The dude sounds like he walked straight out of The Bronx. The young B-Nasty might ask compelling questions and never get to present the answers, while the wizened mind on display here assumes that his fan-base already know the answers, and compresses these trains of thought into mind bogglingly dense articulation – more fantastic and verbose than anything you'd ever find in passing conversation.
Fans who appreciate B-Nasty for his unique perspective will love this culmination of all his stylistic facets, and those who simply enjoy a combination of savvy discourse and unapologetic, raw machismo in their hip-hop will find what they've been missing on "Stunt Like Me".
I listened to "Stunt Like Me" a couple times already on laptop speakers and it was banging so I can imagine what amazing audio experience earbuds or surround sound would produce. This is pure adrenaline splashed with cyborg brain abilities, sprinkled with wit. The track is very different lyrically than the style forged on "300C". There is less emphasis on rhyme and more on rhythm. The tactical decision is to come on harder, more syncopated, and stress the importance of the message.
The track does away with the usual independent defects – sub-par production and half-hearted attempts at commercial viability. B-Nasty's style grows on you after the second or third listen through and you'll begin to understand his musical ability. "Stunt Like Me" simply shows how this amazing wordsmith is evolving as an artist and is beginning to expand his onslaught of talent.
OFFICIAL LINKS: AMAZON – ITUNES – SOUNDCLOUD – FACEBOOK – TWITTER – YOUTUBE – REVERBNATION –SPOTIFY – DOUGH RELATED PRODUCTIONS